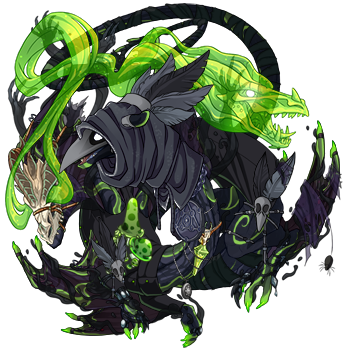 Twisted (Mage)
Hey, hi! I'm Twisted, the leader of the Clan of Outcasts and the Outcast Alliance. I've been breeding baby dragons for a while now and selling them for a pretty low price, and I decided to give some away for free to people who want them for more than exaltation treasure. Any hatchlings who become adults will be sent into the Auction House. Any hatchlings that exhibit the Basic gene will be exalted to serve under our master before adulthood. Hatchlings may also be released before adulthood if my lair is getting cramped :)
If you want an 8-bit sprite for your dragon from this hatchery, I can make a simple sprite for you for free! Just go to my art shop and ask for a simple sprite ^.^
I have to scrape together some rules, huh? Ok, here we are:
-
Be sure to ping the correct person!
This is a joint hatchery between me and the other half of the Clan of Outcasts, @/SilentChaos.
-
Please ask for the hatchling by code or by showing the picture.
They all have a little code to the right of their picture.
-
Tell me what to name it.
They're all unnamed.
-
Please ask nicely,
maybe a full sentence or two. I don't need a reason why, just don't be rude. If you say please I'll add in a little gift with the dragons. It will probably be just a trinket or some food but who knows? Depends on what I have available :P
-
These dragons are exaltable.
However,
please
don't exalt the dragon until it grows up and has some hatchlings of its own. Also, do not abuse this is privilege to get a ton of fodder dragons. I love to be able to scroll through the thread and see my babies wearing outfits and having a good time.
-
Check back every once in a while
for new babies!
-
Please don't ask for more than THREE babies per post, but you may come back more than once per day!
Please don't post again if I haven't replied yet.
-
First come, first serve!
-
Please accept the Crossroads within five days of your request.
I can't hold on to these forever; I need lair space too!
-Let me know if you want to be added to or removed from the pinglist!
Click here to see how my Breeding Grounds is faring: