Slowly, you make your way through the banks or Dirftwood Drag, carefully avoiding the dens made along the rivers and in the dams. You heard about an event for Trickmurk from a few shadow-elemented dragons who were talking. Apparently, in a small clearing, there was a Fae dragon who was doing story prompts. Pushing your head into a clearing, you spotted the Fae.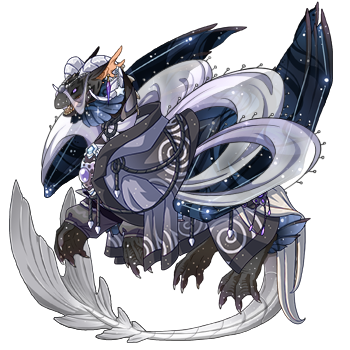 Quote:
''Hello small child. I see that you stumbled upon this small clearing near the river. It's a nice place, calming. I come here to calm down after tending to hatchlings of the clan and leading the clan. I love my clan with all my heart, but sometimes the stress me out. My name is Shadowfox, nice to meet you.''
........
''But you must of come here for a reason. Did you come for the event that I'm hold or Darkweaver is holding? Oh, mine? Then welcome! You came at the right time, as it has just started, along with Darkweaver's!''
---
Welcome! This is some little story prompts that you can do during the push! They will be judge during the actually week of Trickmurk and hopefully the prize will be given out during Trickmurk as well.
-All Flightrising rules still apply
-Use any platform you want! I don't discriminate!
-Please, only post links! This and The Hunt Of Willowwisp Grove are my first events on a platform this big and I want to keep it organized.
-If you want to be added to the pinglist, don't be afraid to ask! I'll happily do it!
-Use
for responses, so it will stand out for the asks of being put on the pinglist please!
-If you miss a day, don't worry! Each day will be visible no matter what! That way, everyone has a chance!
Quote:
Second place-
Quote:
Third place-
This will be updated at around 3:45 to 4:30 P.M Central time because school. But, if I have time in the morning to update it, I will!
Quote:
Sunday-
''Well, you've probably heard that flowers and herbs having meanings. Aloe means healing, protection, affection; a white carnation means innocence, pure love; fennel means flattery; honeysuckle mean bonds of love. Imagine if one of your dragons gave a pot of each of these plants to the one they love, but the one who gets these don't know what they mean. What would play out? Only you know.''
Quote:
Monday-
''A hatchling has caught a deadly disease. They are close to death, and the Healer is certain that it will die. But, the parent is determined that their hatchling will live. What could happen? I'm sure many would love to know. I would love to know.''
Quote:
Tuesday-
''Familiars are wonderful things. I love mine. So lets do something happy. How was one of your hatchlings or dragons first response to getting a wonderful creature to have as a friend.''
Quote:
Wednesday-
''I feel like I should say this, as I feel that it's important. Hatchling are so small and cute, and you can't deny it. As a mother myself, I had two clutches. But it's time to ask, what did one of your mothers' feel about their first clutch?''
Quote:
Thursday-
''Blues, greens, and purples are considered cool colors. Reds, oranges, and yellows are warm. Black is considered depressing, white is considered innocent. What happened, when your favorite dragon opened their eyes to see their coloring?
Quote:
Friday-
''Ah, the second to last prompt. Very sad, but happy at the same time. This is fun to do. Maybe I'll do it again. But, for the prompt. Has there ever been a time where a pale dragon was born in your clan that looked ill? What happened? If that hasn't happened, then what would happen?''
Quote:
Saturday-
''Our last prompt. Imagine what would happen if two good friend were separated for a long time, but finally saw each other?
@
Grahh
@
Hikaye
@
Qumack
@
Jaspernoir
@
Raiko
@
lithiumdream
@
Saraceaser
@
DarkWolf133
@
HSoup
@
jr413
@
Allegria
@
Runningwolf62
@
Alestrius
@
Elysadie
@
Forestwolf
@
JinxMoonstone
@
EurasianLynx
@
Kawaiicoco789