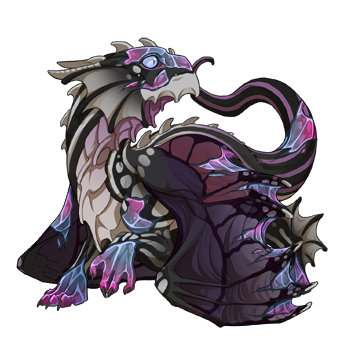 The Crystalline Gala celebrations are underway, and dragons all over Sornieth have gathered for the festivities! While browsing through the stalls, a colorful tent catches your eye, with scrolls and parchment arranged chaotically on a bookshelf set to the side of the entrance. Cans of paint and boxes of what look like charcoal sticks, paintbrushes, and all other sorts of supplies are stacked nearby.

Before you can wonder what sort of artist would so carelessly throw about their own tools, a tiny guardian pops through the opening and bounces over to you.

"Hi!" she excitedly squeaks. "Do you want to color with us?"

You don't even get a chance to answer when tiny claws prickle against your legs, and you look down to see another hatchling almost identical to the first pushing you toward the tent. "C'mon, c'mon!" he insists. "We've got really cool stuff inside!"

Your idea of "really cool" doesn't exactly involve coloring sheets for hatchlings, but as they usher you inside, your eye catches on a table filled to the brim with all sorts of shiny, valuable items. A sign pinned to the tablecloth reads "Prize Table."

Oh, maybe that's what he meant by "really cool stuff." And who can say no to really cool stuff?