Cosmos had been the last of his kind, some kind of freaky fae from the stars. He felt lonely, no one fully understood him and how he thought. Sure no one who wasn't a fae understood faes but he wasn't just a fae. He had an antennae, his frills glew in the dark. It was when he felt decently lonely an idea came to mind. What if he had children. That way he'd not be the last of his kind! The idea was odd, but he realized it could be done.


That's when he got an idea from the scrolls littered around from other dragons. A hatching challenge. it seems like it'd be hard, 100 children and none with the same dragoness but it was what he needed. Despite being lonely, he did fear being the last one of his people.So He began his quest, but first he'd need some help.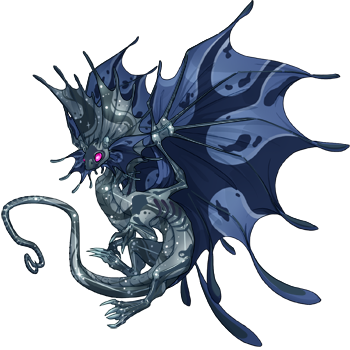 This quest is on a break, it's kind of tiring to do and if it comes back lore for the children will be out the window and replaced with notes.
Extra info
-Hatchlings will sell for 10k treasure, 20k max but that'd be only for rare eyes.
-If, when the time comes, you let me borrow a female can give you a hatchling(First pick before even me!) or 10k treasure.
-Some times the story may be lack luster on posts due to me being on and off sickness (been sick for a month on and off.)
-Hatchlings are only sold here! i'll never put them on the auction house so if you want one, you will need to contact me!
In need of a nice new signature. If you know how to make one, please help. This is a dumpster fire... Feel free to Pm me if you think you can help.