"And so, now you are here."
"Yes."
"You were told you could not have the power of a god, so you summoned me to tell you differently..."
"Answer me."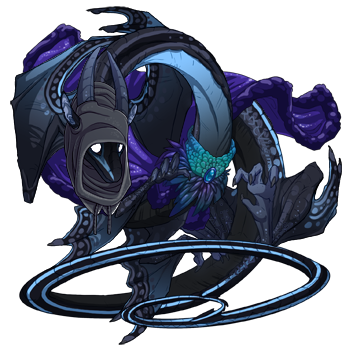 The Spiral laughed.
Danu's crests stiffened in anger. She fluttered up as imposingly as she could, staying just outside the glowing barrier containing the Spiral.
"Answer me!"
"And if I answer you in a way you don't like?"
"Then I'll tear you apart and find a ritual that'll give me what I want to know."
The Spiral cocked its head, its lithe body coiling and uncoiling in the air as it examined Danu. She tried to look strong and dangerous. That was hard when the eyes examining you were as big as your own head.
"Alright."
The Spiral's lips curled away from its sharp teeth.
"You cannot become a god, but you can have the same power over a sphere as a god would. You will need to consume power - great and terrible power - from the sphere you choose, with no remorse, no hesitation. And only then can you warp yourself into what you seek."
Danu already knew what she wanted her sphere to be. She'd known from the moment of this idea's inception - from the moment she saw her own mother meting out punishment and reward.
"I want to be the mother of all dragons," she said, lifting her crests high. "I want them all to submit to me, like good children should."
The Spiral's smile widened. Was it laughing at her?
"Then it will be children you'll need to seek,"
it said.
"Many of them."
"So be it," said Danu.