Welcome to my 100 Hatchling Challenge!
I technically started before I made this thread, but figured it was easier for me.
Anyway, I'm mostly using the rules
in this thread
but every male I use must have Runes! I'm limited on space at the moment so I created a bit of lore involving a couple of my other dragons and how one of them ended up fathering the first nest! That'll be posted below. In the meantime, here's my starting dragon: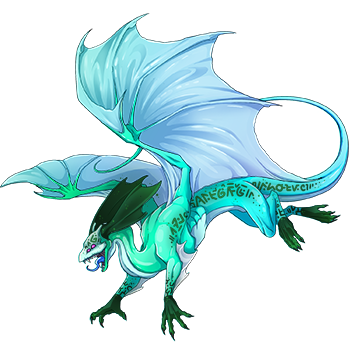 Meet Peitho! Got RTB so I could breed her at once and gave her, her lore not too long ago! I plan on keeping the hatchling I like best from both her first and last nests in an adaptation to the rule for lore reasons. Though, it was either that or using the same dragon for the first and last nests. I went for the former as it is easier, and overall better for lore. The hatchling will still count, Peitho will have no part in raising the hatchling and the agreement is that she can't interact at all with that hatchling until her challenge is done.
List of Hatchlings for sale/taking:
Shuu
Glakila
Shavri
Kisai
Dion
Once hatchlings are ready to breed I'll throw them up on the AH for 15kt and by the time they're about a month and a half old I'll lower it to 13kt. If I've neglected to write lore then I go via what their current age is and go an extra month with them up for sale.
Hatchling Count: 20/100
Pinglist:
@/Survivors @/Xalkile
Please let me know if you'd like to be pinged for updates!
Every hatchling will come with a bit of lore and all I ask is that you breed them once before exalting! If hatchlings do not find homes before they're just taking up too much space (about 2-3 months depending on when they get lore) I will exalt them myself to save on space and to hatch nests and such. This is if they haven't been claimed off the AH by that time, though as is I only put them up for sale after their breeding cool down is up.
Edit: Because I was wegged, I will be keeping the hatchling and offers for future mates (Must have RUNES tertiary gene!) are being accepted right away! (this info is now void)
Edit 2: Title edit because it sounds better.
All other edits: Who's for sale getting updated and hatchling count going up.
| | |
| --- | --- |
| NEW PLAN: REGULARLY RESPOND TO A COUPLE THINGS AND SLOWLY ADD MORE TO THAT OVER TIME SO THAT EVENTUALLY I'M PRETTY REGULARLY REPLYING TO EVERYTHING! | If I make a comment about a thing you're selling (derg/adopt/etc.etc.) please don't take it as me begging! It's more of a 'Good luck selling!' sort of thing and I in no way shape or form intend to just be handed what I commented about! I'm perfectly happy coming back at a later date and paying full price for something else if I feel the urge to! That said, have a nice day! ^-^ |