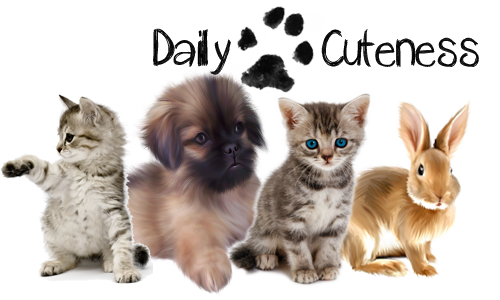 (Graphics by @
Nowai
, thank you!)
Sometimes, life is lifey, and it's nice to get away from it for a little while and make squealing noises over a cute bunny picture. Well, my friends, years ago the amazing @
Mysa
came up with a little thing to help with that called
The Daily Cuteness Pinglist!
Now they are passing on the torch of managing that thread. So...here I am!
Original thread
here
if you wish to view it!

This is a pinglist where you get pinged once a day with a cute animal picture. Don't worry though! I won't do spiders or bugs as I know some people don't like them. (I don't either...) If there are any other animals that you would preferably not want to see either make a comment here or PM me. I swear, I won't attack you, we all have things we don't like.
Found some cute pictures of animals you would like to share? Send me a PM so I can add it to one of the daily pings (Saying that you found it of course). There's a chance your image(s) won't be posted the very next day, but do not fret, I will use them. If you give me a ton of images, I probably won't use all of them, but I'll try. If you don't know how to put images in the forums/PMs there's a handy-dandy forum post on that
here
.
Do you want to be on the pinglist? Just post in the comments
(no need to ping, I'm subscribed to the thread, I wont get angry if you do though.)
saying you want in and I'll add you! As simple as that!
If you have any questions, comment or PM me.