Current Version: 1.0.0-beta
Dark Mode Link
Light Mode Link
Oof bear with me guys, I'm bad at making these threads pretty.
What it is:
A small online app that lists all of the Marketplace breed-change/primary/secondary/tertiary scrolls & their (first place) dom-discounted prices. You type in the quantity of each you want, press calculate, and voila! You get your total without having to do any STINKY. MATH.
How To Use:
Just type in how many of each item you want, press calculate, and you're done!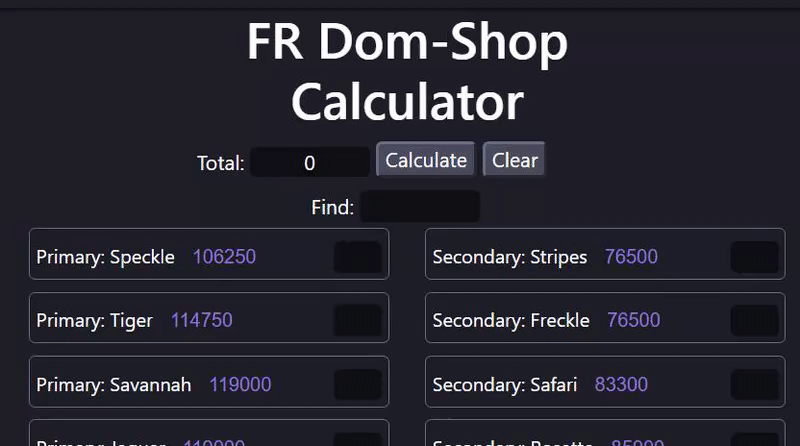 (partial-view gif cus FR forums are narrow)
---
Current State-of-the-App
This is the first, functional version. All features should work as expected. However, the styling of the page is minimal. Currently, the app looks best in a full-size window size bigger than ~1200px. It WILL squish down (looking at you, mobile users ;)) but the list will get very long (I'm not sure what to do about this tbh) & window sizes in-between mobile and full-size might look a little funky.
Please notify me
if something breaks, functionally or appearance-wise. As in, if you make the window smaller and suddenly text breaks/spills out of its "box". Or if at any point text is covering the quantity or 'find' boxes. My crappy CSS should not hinder functionality!
---
Current Features
Find
The find box is when you just can't see that one scroll you're looking for, even though you've looked up and down the list and back again! If you type in the name of the thing you're looking for, it will highlight the item for you!
Important Note:
Find feature is CASE-SENSITIVE. AKA: Capital letters matter.
Future Features
A 'sort' option so that users may have the page sorted by price or alphabetically
---
Changelog
02/26/2019: v1-beta release