A bunch of us in Light, faced with profit pushing during the Mistral Jamboree, began to wonder: is there a way to do a 2-fodder build for Harpy's Roost? After a bunch of number-crunching and testing, I would like to present the "Rooster" build.
Stats: 108 STR / 85 QCK / 18 VIT (tinctured)
Stones: Sap / Scratch / Eliminate / Rally / Haste / 3 Berserkers / 2 Ambushes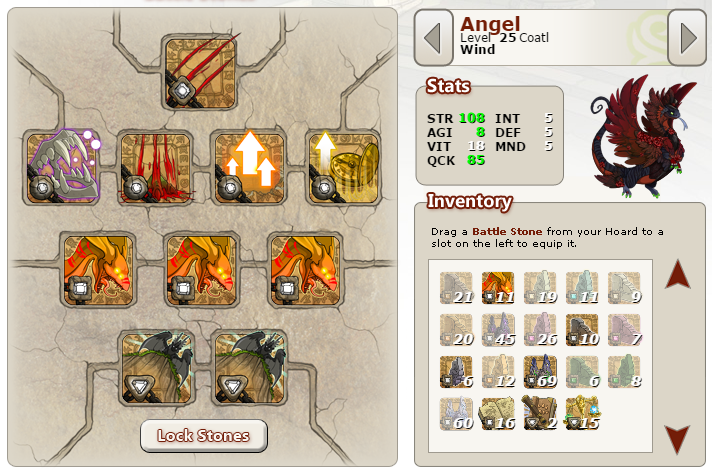 A rooster scratches to build breath and saps to heal. Previously, we tested a meditate + bolster alternative combination, but found it less effective.
Now, about the stats: 108 STR lets you rally + eliminate every non-boss in the Harpy's Roost. Meanwhile, 85 QCK allows you to reclaim a turn by using 'Haste'. The rest of the points go to vitality for some endurance.
What element should my rooster be?
The best element to use is Wind. Wind dragons are not weak to any of the casters and their resistance to wind attacks comes in very handy. However, Nature, Shadow, and Plague dragons should also serve you well. Try to avoid dragons weak to Lightning or Wind.
Okay, my dragon is stoned. How do I fight with this build?
For the first battle, if your dragon has scratch, you just haste, rally, and keep on scratching until you build up breath, then eliminate. If you are using the no longer recommended meditate+bolster alternative: do meditate-haste-bolster-rally-eliminate. Ideally, choose a starting pack with some magic users or with elements that do reduced damage to your rooster.
For every battle after the first one, you cast haste-rally-eliminate.
If you have sap, you can take advantage of small 2-packs or packs of mages whose element your rooster is strong against to recover. This will allow your rooster to last longer. Slower monsters can also provide additional recovery turns.
What if I run into a boss?
It is probably best to restart if you run into a boss, as we have not yet had much luck taking down the bosses. If you come up with a method, feel free to share it!
You keep on saying 'we'. Who made this build, anyway?
This build was designed & tested by @
Achi
, @
Firstblush
, @
Jinian
, @
Lamentations
, & @
Schefflera
. Feel free to virtually hug them all for putting some serious time into this!
Can I be pinged for any future changes to the build?
Sure, ping me and I'll add you to the pinglist for updates. :)
Current pinglist: @
DuskSpark
@
skyarising
@
Hyperes
@
yankiidoodles
@
Thardus
@
Sialia
@
indecisive
@
sinnapine
@
sleepyhat
@
Relixen
@
janetlin
@
Artorias