Update: The new clan directory by @ZincAlloy is over here:
http://www1.flightrising.com/forums/frd/1866596/1
This list is inactive! Thank you SO much to everyone who has contributed and shared your clans! Please direct your responses to the thread linked above, where you can manually enter your information into a spreadsheet via survey.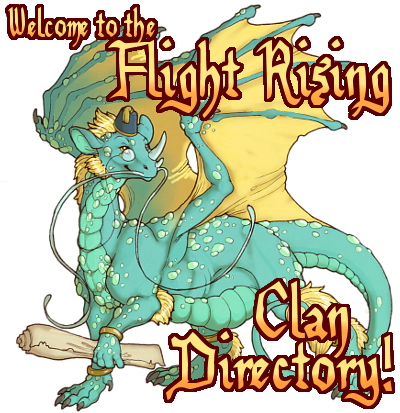 Have you given your dragons an official clan name? I want to compile a list of all the named clans on FR! Tell me what yours is called, and feel free to talk about them a bit if you want!
Mine is the Redwood Reach clan, of the Sunbeam Ruins. Originally named for the massive tree my progenitor chose as a lair site, they've branched out into the western edge of Light territory overlooking the sea, where they put their scholarly skills to work in the study and treatment of disease. (An excuse to collect gross-looking dragons without having to switch Flights :P)
How about yours?
If you get pinged after replying to this thread, it means I've added your clan to the list. If you accidentally get pinged again after I've added you, it probably means someone else has posted who shares part of your username. I will eventually be going back and adding URLs manually to lead to the proper profiles!


---
Q: Do I have to register my clan in this thread to make it 'legit'?
A: Not at all, this listing is just for fun, so you can see what kinds of names players have chosen for their clans and get to know them a little. You're not obligated to add yours to the list, though I'd love it if you did!
Q: I changed Flights/usernames/clan names/I want my clan taken down.
A: Just ping me here or message me. Let me know what I should change and I'll edit the post, simple as that! If you have a new name or Flight I would
really
appreciate it if you could remind me what your previous info was so I can find your entry that much quicker; there are hundreds of clans listed here!
Q: I submitted my clan name a while ago and it's still not on the list.
A: It's easier for me to update in batches rather than edit the list every time a single person replies. I'll get to it eventually! If you think I may have skipped you by accident, feel free to post again.
---
Some other clan lore resources you might enjoy:
note- these are not run by me
Interactive Clan Map
: With these interactive maps created by @
Mary
you can place markers to show exactly where on Sornieth your clan resides!
Clan Alliances
: If your clan is looking for allies, check out this survey and spreadsheet created by @
Patch
to find players whose dragons may fit the bill.
---
Please keep dragon images in this thread to a minimum.
I love seeing all your clan leaders, but I don't want this thread to get too image-heavy and moved to Dragon Share!
-FR Sketchbook-Old Clan Listing-Adoptables-Accents-Exalt Guide-
My username is
Cynictis
and misspelled pings make me cry.
***LENDING LEVEL 20 CAULDRON***