filed under "things that i will never get"
Hi. I'm a lore clan. My clan is called the Tradewind Kingdom. Imagine my delight when I find out that one of the new familiars is called the Tradewinds Gull.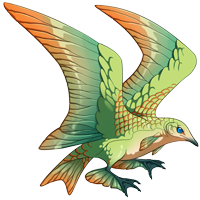 I know it's just a word that people use but I'm still freakin'
delighted
. It helps that the bird is very Wind-y aesthetic, which is exactly what Tradewind's about, and
also
has deep blue eyes like a Water flight dragon - and Tradewind is situated literally on the border between Wind and Water.
This bird was
fate
, I s2Winddad.
I've already gotten the familiar (thank you to the person who gifted it to me, you know who you are) so now I need... another one.
In dragon form.
That is also First Generation. Because it's very important to lore.
People are posting some scries at
this thread
and I'll take ANYTHING that looks like those scries too, but for the sake of example, here's just one of the possibilities:
I just want a dragon that looks
anything
like that. The scry is Chartreuse/Jade/Peach, but...
Womp Womp.
So... I'm not going for specific colors here, I'm going for
look
.
Light green/bluish-darker green/orangey.
Doesn't have to be gened, either. Just the colors have to be right, or at least right-ish.
So here's some things it HAS to be:
1.
First generation.
2.
Unbred.
3. Looks
anything
like a Tradewinds Gull.
4. I'd prefer if it didn't have lore already, unless you don't care that I'm going to wipe it all out and do my own thing.
5. I'd especially like it to have Wind eyes or Water eyes, but I can pretend.
They'll most likely end up as a Skydancer anyways, which have tiny eyes so color doesn't particularly matter. In lore, they'll be Wind/Water anyways.
That's it. That's all it is. It's still incredibly specific to the point where this dragon likely does not exist, nor will it for a while, but
please
, if you see
anyone
selling a dragon like this, or if you have one you're hoping to sell yourself,
PLEASE
tell me. Thank you.
Don't ping, I'm subscribed to the thread!