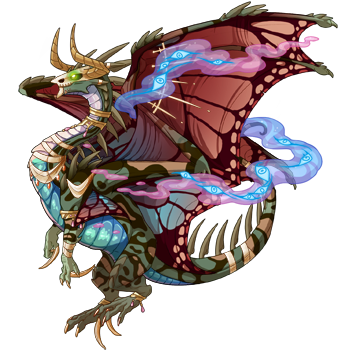 Wooden Sign wrote:
Open only on Fridays from now on.
* So i could refresh full selection of dergs and reduce the amount of pings.

"Welcome, traveller."-
a dark ridgeback, almost completely covered in who-knows-made-of-what rags greets you as you 're passing by.
"Your destiny had brought YOU here to be the savior of these souls! An acquirer of elite goods!" -she cackles - OR, which is actually more believable, you sniffed what our chef is cooking.
Her voice is..I guess not pleasant? But it's not that unpleasant either. Different. Echo-y, growling, and sometimes..sometimes like many-voices.
"I will be known to you as King Of Bones, the proprietor of this lovely establishment."
The grin is unsettling. At least...you think it was a grin. Why it's so
hot
here anyways?..
You hear chains, and behind her you see a row of dragons, clearly mortified to displease her.
You also notice a lot of crows. Many many eyes following everything. You wonder if they're something like security here.
But that's silly , right? Birds, security, hahha...
"Let's look at the merchandise, shall we?"
There are also a lot of fae around, you wonder how you didn't notice but after a while you conclude it's mostly because of their camouflaging colourings.
As you turn over to the merchandise, you see with the corner of your eye her scribbling down something in a black notebook.
She knows you noticed.
"Just business. Don't fret"
Tiny Black Book wrote:
+Resorant +Voronwis +Yesmissalice +queerprince +Ecliptic
+BubbleCat (coatls only) +ClockworkEclipse +Sonora +Airplanefoxx +MettatonsLegs +CommenRue +Geology +Polymorphus +ItachiUmbreon +Snowki (sd esp)

-SerpentEternal -MetalDawn71 -mnkn10 -AtticaIonia -Nightingale333