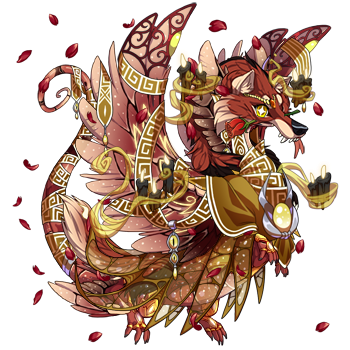 Elegiac
- Fallen King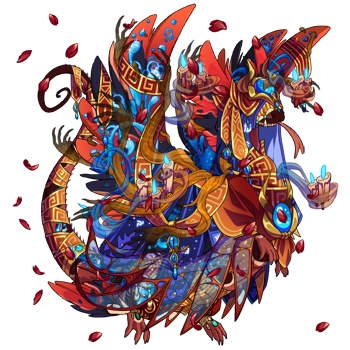 Melancholia
- Devoted Follower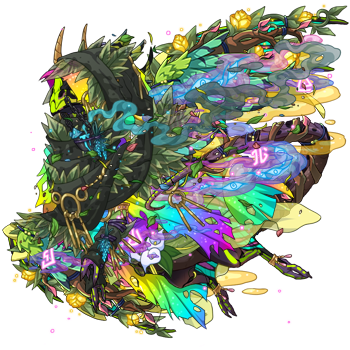 Paris
- Loyal Guard
---
Pacing from side to side, the glowing candles surrounding the King bobbed and weaved around his head. Elegiac stopped pacing for a moment to glance out the window at the setting sun, then resumed with even more frantic intensity. His tail lashed from side to side, timed with his agitated muttering.
"Where is he. Where is he!"
Elegiac spun around at a quiet knock at the tall oaken door guarding his simply decorated quarters. He quickly crossed the room, throwing open the door. "Mel?"
Instead of a Coatl a Bogsneak stood in the hall, the cloak he wore covering his eyes. "Oh. Never-mind." The king turned around, and Paris was forced to speak to his back.
"Sir? There's been no sign of him."
Elegiac sighed gazing out of the window into the twilight-covered forest. "I figured." Paris dropped his head, knowing the pain his King was going through. "I will tell my men to keep searching, Sir. We won't stop until we find him."
Elegiac waved a tired hand behind him. "No. Your men deserve rest. They have been out for over three Moons, and I'm sure they are tired."
"But-"
"Please." He turned around, looking Paris in the eyes. "We will continue searching in the morning. Until then, tell your men to get some sleep."
The tall Bogsneak bowed his head, his eyes filed with gratitude. "Thank you Sir. You're a good man."
El smiled, but Paris heard the sigh of an exhausted man as he turned back towards the window. Night was falling fast, and stars were beginning to appear.
"Goodnight, Sir." The door closed softly behind him as Paris left the room.
"Goodnight." Elegiac whispered softly to himself as he fought back the tears that threatened to break the entire brave facade he had been holding throughout the past three days. He sat down, staring at his paws. They were the scar covered hands of a warrior, combined with the deep creases of a worried man. He remembered what it was like to lose someone he cared about, and Elegiac knew he could never let that happen again.
Suddenly, he stood up. Stepping over his sleeping familiar, he threw off his heavy winter cloak that he wore to bed and stepped toward the window. The glass was cold as he pressed his palms firmly to the window and pushed out, throwing them open. A cool winter breeze instantly blew through the room, and Elegiac shivered.
Letting the thoughts of his lover in danger warm him, the Coatl leapt from the window and fell through the night air before stretching out his wings and soaring through the sky.
Back at the tower, Paris was delivering the good news to his exhausted men.
"The King has graciously let us retire tonight and resume our searching in the morning."
The room full of all sorts of dragons nodded and smiled, their tired eyes speaking more than they were. However, some dragons seemed unhappy with this, and grumbled to themselves. Paris snarled, striding up towards them.
The entire room fell silent as Paris stared down a Skydancer. "Do you have a problem with that?"
The Skydancer looked scared for a moment, but then lashed out again. "Why should we take orders from a stupid King who doesn't even own a kingdom any more? Why couldn't we have stopped last night, or the night before that?" He paused for breath, but stopped when he saw the look in Paris's eyes.
The usually placid Bogsneak held an expression of such fury behind his icy eyes that the whole room shifted uncomfortably. "You dare talk against our King?" His voice was a deadly whisper as he stared into the Skydancer's eyes.
No response.
Paris reared his head back, getting up on his back legs. "Because if this man's insolence, we are no longer taking a rest day. Everyone, fill up your lanterns because we are resuming our search, effective immediately.
All of the dragons were stunned, realizing Paris was serious. The entire room filled with outrage, but not directed at Paris. The Skydancer that had dared to defy Captain, insulted the King, and made them continue searching without rest was attacked by over 50 men.
Paris narrowed his eyes, before strapping his Venom-laced bracers on. "Let's go boys. We're goin' dragon hunting." He growled, before taking to the skies.
"Mel?" Elegiac called, hsi voice hoarse after hours of fruitless searching on the dark. The usually familiar forest felt foreign in the darkness, and the King felt lost without his partner. "Mel?"
Suddenly, a twig snapped behind him. Elegiac whirled around, his lantern spinning. "Who's there?" He demanded, shoving the oil lantern forward. "Show yourself!"
A massive shadow-covered shape emerged from the trees. It prepared to strike when suddenly...
"Sir?" A familiar voice emerged from the hulking darkness, and El recoiled in shock.
"Paris?"
The Bogsneak stepped into the light, and Elegiac recognized the leaf-laden cloak wrapped around his neck. "What are you doing? I thought I gave you a night to rest?"
Paris chuckled, and explained what happened in the tower. Elegiac laughed, but soon grew serious remembering why he was in the forest.
"Although I don't like over-working your men, I am thankful for your company in searching." Elegiac responded, before turning back to the trees. "Shall we?"
Paris nodded, and joined him in calling out Melancholia's name.
Hours passed, and nothing had changed. Elegiac's voice was hoarse, and the dark circles under Paris's eyes deepened. Finally, just as they were about to give up, a scream rose from deeper into the forest.
The two dragons raced towards the location, Elegiac bursting ahead with the adrenaline of ending the search. The two arrived at a large clearing in the center of the forest.
Elegiac cautiously stepped forward out of the trees, despite the insistence of Paris telling him to wait.
"Mel?" He called out tentatively, stepping forward slowly.
"E-el..." A weak voice whispered from the center of the clearing. It came from under a large rock that had been hollowed out on the opposite side. "P-please... help..."
Elegiac's breathing quickened. He recognized the voice of his boyfriend, Melancholia! "Mel!"
He ran around the rock, but stopped dead in his tracks when he saw the beautiful Coatl he loved lying on the ground, with thousands of spectral hands holding him anchored to the floor. A screech suddenly shook him out of his shock, and Elegiac roared in pain as a large, and Mimic burst from inside the rock's shadows and tore down Elegiac's wing.
Paris, who stayed back, ran forward to protect his king. He lashed out at the Mimic, smashing it with his tail.
The angry mimic skidded backwards, before bounding forwards with increased fury. Elegiac pushed past his pain, and, in a swift move, broke the lantern over the Mimic's head, engulfing it in flames. It gave an ear-piercing screech before dissipating into a cold mist.
Melancholia's eyes opened wide, and his mouth fell open as the hands emerged from him before disappearing as well. Elegiac fell on the ground, hugging Mel tightly.
"Thank you." Melancholia's eyes welled up with tears, and embraced Elegiac. Paris smiled, his head tilting as he saw how much the two dragons loved each other.
After everyone gathered the strength to fly back, all three dragons slept well into midday. And that is the story of how the Lair of Blinding Star defeated the Mimic.
00001010 01010111 01100101 00100111 01110010 01100101 00100000 01101110 01101111 00100000 01110011 01110100 01110010 01100001 01101110 01100111 01100101 01110010 01110011 00100000 01110100 01101111 00100000 01101100 01101111 01110110 01100101 00001010 01011001 01101111 01110101 00100000 01101011 01101110 01101111 01110111 00100000 01110100 01101000 01100101 00100000 01110010 01110101 01101100 01100101 01110011 00100000 01100001 01101110 01100100 00100000 01110011 01101111 00100000 01100100 01101111 00100000 01001001 00001010 01000001 00100000 01100110 01110101 01101100 01101100 00100000 01100011 01101111 01101101 01101101 01101001 01110100 01101101 01100101 01101110 01110100 00100111 01110011 00100000 01110111 01101000 01100001 01110100 00100000 01001001 00100111 01101101 00100000 01110100 01101000 01101001 01101110 01101011 01101001 01101110 01100111 00100000 01101111 01100110 00001010 01011001 01101111 01110101 00100000 01110111 01101111 01110101 01101100 01100100 01101110 00100111 01110100 00100000 01100111 01100101 01110100 00100000 01110100 01101000 01101001 01110011 00100000 01100110 01110010 01101111 01101101 00100000 01100001 01101110 01111001 00100000 01101111 01110100 01101000 01100101 01110010 00100000 01100111 01110101 01111001 00001010 00001010 01001001 00100000 01101010 01110101 01110011 01110100 00100000 01110111 01100001 01101110 01101110 01100001 00100000 01110100 01100101 01101100 01101100 00100000 01111001 01101111 01110101 00100000 01101000 01101111 01110111 00100000 01001001 00100111 01101101 00100000 01100110 01100101 01100101 01101100 01101001 01101110 01100111 00001010 01000111 01101111 01110100 01110100 01100001 00100000 01101101 01100001 01101011 01100101 00100000 01111001 01101111 01110101 00100000 01110101 01101110 01100100 01100101 01110010 01110011 01110100 01100001 01101110 01100100 00001010 00001010 01001110 01100101 01110110 01100101 01110010 00100000 01100111 01101111 01101110 01101110 01100001 00100000 01100111 01101001 01110110 01100101 00100000 01111001 01101111 01110101 00100000 01110101 01110000 00001010 01001110 01100101 01110110 01100101 01110010 00100000 01100111 01101111 01101110 01101110 01100001 00100000 01101100 01100101 01110100 00100000 01111001 01101111 01110101 00100000 01100100 01101111 01110111 01101110 00001010 01001110 01100101 01110110 01100101 01110010 00100000 01100111 01101111 01101110 01101110 01100001 00100000 01110010 01110101 01101110 00100000 01100001 01110010 01101111 01110101 01101110 01100100 00100000 01100001 01101110 01100100 00100000 01100100 01100101 01110011 01100101 01110010 01110100 00100000 01111001 01101111 01110101 00001010 01001110 01100101 01110110 01100101 01110010 00100000 01100111 01101111 01101110 01101110 01100001 00100000 01101101 01100001 01101011 01100101 00100000 01111001 01101111 01110101 00100000 01100011 01110010 01111001 00001010 01001110 01100101 01110110 01100101 01110010 00100000 01100111 01101111 01101110 01101110 01100001 00100000 01110011 01100001 01111001 00100000 01100111 01101111 01101111 01100100 01100010 01111001 01100101 00001010 01001110 01100101 01110110 01100101 01110010 00100000 01100111 01101111 01101110 01101110 01100001 00100000 01110100 01100101 01101100 01101100 00100000 01100001 00100000 01101100 01101001 01100101 00100000 01100001 01101110 01100100 00100000 01101000 01110101 01110010 01110100 00100000 01111001 01101111 01110101 00001010 00001010 01010111 01100101 00100111 01110110 01100101 00100000 01101011 01101110 01101111 01110111 01101110 00100000 01100101 01100001 01100011 01101000 00100000 01101111 01110100 01101000 01100101 01110010 00100000 01100110 01101111 01110010 00100000 01110011 01101111 00100000 01101100 01101111 01101110 01100111 00001010 01011001 01101111 01110101 01110010 00100000 01101000 01100101 01100001 01110010 01110100 00100111 01110011 00100000 01100010 01100101 01100101 01101110 00100000 01100001 01100011 01101000 01101001 01101110 01100111 00101100 00100000 01100010 01110101 01110100 00001010 01011001 01101111 01110101 00100111 01110010 01100101 00100000 01110100 01101111 01101111 00100000 01110011 01101000 01111001 00100000 01110100 01101111 00100000 01110011 01100001 01111001 00100000 01101001 01110100 00001010 01001001 01101110 01110011 01101001 01100100 01100101 00101100 00100000 01110111 01100101 00100000 01100010 01101111 01110100 01101000 00100000 01101011 01101110 01101111 01110111 00100000 01110111 01101000 01100001 01110100 00100111 01110011 00100000 01100010 01100101 01100101 01101110 00100000 01100111 01101111 01101001 01101110 01100111 00100000 01101111 01101110 00001010 01010111 01100101 00100000 01101011 01101110 01101111 01110111 00100000 01110100 01101000 01100101 00100000 01100111 01100001 01101101 01100101 00100000 01100001 01101110 01100100 00100000 01110111 01100101 00100111 01110010 01100101 00100000 01100111 01101111 01101110 01101110 01100001 00100000 01110000 01101100 01100001 01111001 00100000 01101001 01110100 00001010 00001010 01000001 01101110 01100100 00100000 01101001 01100110 00100000 01111001 01101111 01110101 00100000 01100001 01110011 01101011 00100000 01101101 01100101 00100000 01101000 01101111 01110111 00100000 01001001 00100111 01101101 00100000 01100110 01100101 01100101 01101100 01101001 01101110 01100111 00001010 01000100 01101111 01101110 00100111 01110100 00100000 01110100 01100101 01101100 01101100 00100000 01101101 01100101 00100000 01111001 01101111 01110101 00100111 01110010 01100101 00100000 01110100 01101111 01101111 00100000 01100010 01101100 01101001 01101110 01100100 00100000 01110100 01101111 00100000 01110011 01100101 01100101 00001010 00001010 01001110 01100101 01110110 01100101 01110010 00100000 01100111 01101111 01101110 01101110 01100001 00100000 01100111 01101001 01110110 01100101 00100000 01111001 01101111 01110101 00100000 01110101 01110000 00001010 01001110 01100101 01110110 01100101 01110010 00100000 01100111 01101111 01101110 01101110 01100001 00100000 01101100 01100101 01110100 00100000 01111001 01101111 01110101 00100000 01100100 01101111 01110111 01101110 00001010 01001110 01100101 01110110 01100101 01110010 00100000 01100111 01101111 01101110 01101110 01100001 00100000 01110010 01110101 01101110 00100000 01100001 01110010 01101111 01110101 01101110 01100100 00100000 01100001 01101110 01100100 00100000 01100100 01100101 01110011 01100101 01110010 01110100 00100000 01111001 01101111 01110101 00001010 01001110 01100101 01110110 01100101 01110010 00100000 01100111 01101111 01101110 01101110 01100001 00100000 01101101 01100001 01101011 01100101 00100000 01111001 01101111 01110101 00100000 01100011 01110010 01111001 00001010 01001110 01100101 01110110 01100101 01110010 00100000 01100111 01101111 01101110 01101110 01100001 00100000 01110011 01100001 01111001 00100000 01100111 01101111 01101111 01100100 01100010 01111001 01100101 00001010 01001110 01100101 01110110 01100101 01110010 00100000 01100111 01101111 01101110 01101110 01100001 00100000 01110100 01100101 01101100 01101100 00100000 01100001 00100000 01101100 01101001 01100101 00100000 01100001 01101110 01100100 00100000 01101000 01110101 01110010 01110100 00100000 01111001 01101111 01110101 00001010 00001010 01001110 01100101 01110110 01100101 01110010 00100000 01100111 01101111 01101110 01101110 01100001 00100000 01100111 01101001 01110110 01100101 00100000 01111001 01101111 01110101 00100000 01110101 01110000 00001010 01001110 01100101 01110110 01100101 01110010 00100000 01100111 01101111 01101110 01101110 01100001 00100000 01101100 01100101 01110100 00100000 01111001 01101111 01110101 00100000 01100100 01101111 01110111 01101110 00001010 01001110 01100101 01110110 01100101 01110010 00100000 01100111 01101111 01101110 01101110 01100001 00100000 01110010 01110101 01101110 00100000 01100001 01110010 01101111 01110101 01101110 01100100 00100000 01100001 01101110 01100100 00100000 01100100 01100101 01110011 01100101 01110010 01110100 00100000 01111001 01101111 01110101 00001010 01001110 01100101 01110110 01100101 01110010 00100000 01100111 01101111 01101110 01101110 01100001 00100000 01101101 01100001 01101011 01100101 00100000 01111001 01101111 01110101 00100000 01100011 01110010 01111001 00001010 01001110 01100101 01110110 01100101 01110010 00100000 01100111 01101111 01101110 01101110 01100001 00100000 01110011 01100001 01111001 00100000 01100111 01101111 01101111 01100100 01100010 01111001 01100101 00001010 01001110 01100101 01110110 01100101 01110010 00100000 01100111 01101111 01101110 01101110 01100001 00100000 01110100 01100101 01101100 01101100 00100000 01100001 00100000 01101100 01101001 01100101 00100000 01100001 01101110 01100100 00100000 01101000 01110101 01110010 01110100 00100000 01111001 01101111 01110101 00001010 00001010 00101000 01001111 01101111 01101000 00101100 00100000 01100111 01101001 01110110 01100101 00100000 01111001 01101111 01110101 00100000 01110101 01110000 00101001 00001010 00101000 01001111 01101111 01101000 00101100 00100000 01100111 01101001 01110110 01100101 00100000 01111001 01101111 01110101 00100000 01110101 01110000 00101001 00001010 01001110 01100101 01110110 01100101 01110010 00100000 01100111 01101111 01101110 01101110 01100001 00100000 01100111 01101001 01110110 01100101 00101100 00100000 01101110 01100101 01110110 01100101 01110010 00100000 01100111 01101111 01101110 01101110 01100001 00100000 01100111 01101001 01110110 01100101 00001010 00101000 01000111 01101001 01110110 01100101 00100000 01111001 01101111 01110101 00100000 01110101 01110000 00101001 00001010 01001110 01100101 01110110 01100101 01110010 00100000 01100111 01101111 01101110 01101110 01100001 00100000 01100111 01101001 01110110 01100101 00101100 00100000 01101110 01100101 01110110 01100101 01110010 00100000 01100111 01101111 01101110 01101110 01100001 00100000 01100111 01101001 01110110 01100101 00001010 00101000 01000111 01101001 01110110 01100101 00100000 01111001 01101111 01110101 00100000 01110101 01110000 00101001 00001010 00001010 01010111 01100101 00100111 01110110 01100101 00100000 01101011 01101110 01101111 01110111 01101110 00100000 01100101 01100001 01100011 01101000 00100000 01101111 01110100 01101000 01100101 01110010 00100000 01100110 01101111 01110010 00100000 01110011 01101111 00100000 01101100 01101111 01101110 01100111 00001010 01011001 01101111 01110101 01110010 00100000 01101000 01100101 01100001 01110010 01110100 00100111 01110011 00100000 01100010 01100101 01100101 01101110 00100000 01100001 01100011 01101000 01101001 01101110 01100111 00101100 00100000 01100010 01110101 01110100 00001010 01011001 01101111 01110101 00100111 01110010 01100101 00100000 01110100 01101111 01101111 00100000 01110011 01101000 01111001 00100000 01110100 01101111 00100000 01110011 01100001 01111001 00100000 01101001 01110100 00001010 01001001 01101110 01110011 01101001 01100100 01100101 00101100 00100000 01110111 01100101 00100000 01100010 01101111 01110100 01101000 00100000 01101011 01101110 01101111 01110111 00100000 01110111 01101000 01100001 01110100 00100111 01110011 00100000 01100010 01100101 01100101 01101110 00100000 01100111 01101111 01101001 01101110 01100111 00100000 01101111 01101110 00001010 01010111 01100101 00100000 01101011 01101110 01101111 01110111 00100000 01110100 01101000 01100101 00100000 01100111 01100001 01101101 01100101 00100000 01100001 01101110 01100100 00100000 01110111 01100101 00100111 01110010 01100101 00100000 01100111 01101111 01101110 01101110 01100001 00100000 01110000 01101100 01100001 01111001 00100000 01101001 01110100 00001010 00001010 01001001 00100000 01101010 01110101 01110011 01110100 00100000 01110111 01100001 01101110 01101110 01100001 00100000 01110100 01100101 01101100 01101100 00100000 01111001 01101111 01110101 00100000 01101000 01101111 01110111 00100000 01001001 00100111 01101101 00100000 01100110 01100101 01100101 01101100 01101001 01101110 01100111 00001010 01000111 01101111 01110100 01110100 01100001 00100000 01101101 01100001 01101011 01100101 00100000 01111001 01101111 01110101 00100000 01110101 01101110 01100100 01100101 01110010 01110011 01110100 01100001 01101110 01100100 00001010 00001010 01001110 01100101 01110110 01100101 01110010 00100000 01100111 01101111 01101110 01101110 01100001 00100000 01100111 01101001 01110110 01100101 00100000 01111001 01101111 01110101 00100000 01110101 01110000 00001010 01001110 01100101 01110110 01100101 01110010 00100000 01100111 01101111 01101110 01101110 01100001 00100000 01101100 01100101 01110100 00100000 01111001 01101111 01110101 00100000 01100100 01101111 01110111 01101110 00001010 01001110 01100101 01110110 01100101 01110010 00100000 01100111 01101111 01101110 01101110 01100001 00100000 01110010 01110101 01101110 00100000 01100001 01110010 01101111 01110101 01101110 01100100 00100000 01100001 01101110 01100100 00100000 01100100 01100101 01110011 01100101 01110010 01110100 00100000 01111001 01101111 01110101 00001010 01001110 01100101 01110110 01100101 01110010 00100000 01100111 01101111 01101110 01101110 01100001 00100000 01101101 01100001 01101011 01100101 00100000 01111001 01101111 01110101 00100000 01100011 01110010 01111001 00001010 01001110 01100101 01110110 01100101 01110010 00100000 01100111 01101111 01101110 01101110 01100001 00100000 01110011 01100001 01111001 00100000 01100111 01101111 01101111 01100100 01100010 01111001 01100101 00001010 01001110 01100101 01110110 01100101 01110010 00100000 01100111 01101111 01101110 01101110 01100001 00100000 01110100 01100101 01101100 01101100 00100000 01100001 00100000 01101100 01101001 01100101 00100000 01100001 01101110 01100100 00100000 01101000 01110101 01110010 01110100 00100000 01111001 01101111 01110101 00001010 00001010 01001110 01100101 01110110 01100101 01110010 00100000 01100111 01101111 01101110 01101110 01100001 00100000 01100111 01101001 01110110 01100101 00100000 01111001 01101111 01110101 00100000 01110101 01110000 00001010 01001110 01100101 01110110 01100101 01110010 00100000 01100111 01101111 01101110 01101110 01100001 00100000 01101100 01100101 01110100 00100000 01111001 01101111 01110101 00100000 01100100 01101111 01110111 01101110 00001010 01001110 01100101 01110110 01100101 01110010 00100000 01100111 01101111 01101110 01101110 01100001 00100000 01110010 01110101 01101110 00100000 01100001 01110010 01101111 01110101 01101110 01100100 00100000 01100001 01101110 01100100 00100000 01100100 01100101 01110011 01100101 01110010 01110100 00100000 01111001 01101111 01110101 00001010 01001110 01100101 01110110 01100101 01110010 00100000 01100111 01101111 01101110 01101110 01100001 00100000 01101101 01100001 01101011 01100101 00100000 01111001 01101111 01110101 00100000 01100011 01110010 01111001 00001010 01001110 01100101 01110110 01100101 01110010 00100000 01100111 01101111 01101110 01101110 01100001 00100000 01110011 01100001 01111001 00100000 01100111 01101111 01101111 01100100 01100010 01111001 01100101 00001010 01001110 01100101 01110110 01100101 01110010 00100000 01100111 01101111 01101110 01101110 01100001 00100000 01110100 01100101 01101100 01101100 00100000 01100001 00100000 01101100 01101001 01100101 00100000 01100001 01101110 01100100 00100000 01101000 01110101 01110010 01110100 00100000 01111001 01101111 01110101 00001010 00001010 01001110 01100101 01110110 01100101 01110010 00100000 01100111 01101111 01101110 01101110 01100001 00100000 01100111 01101001 01110110 01100101 00100000 01111001 01101111 01110101 00100000 01110101 01110000 00001010 01001110 01100101 01110110 01100101 01110010 00100000 01100111 01101111 01101110 01101110 01100001 00100000 01101100 01100101 01110100 00100000 01111001 01101111 01110101 00100000 01100100 01101111 01110111 01101110 00001010 01001110 01100101 01110110 01100101 01110010 00100000 01100111 01101111 01101110 01101110 01100001 00100000 01110010 01110101 01101110 00100000 01100001 01110010 01101111 01110101 01101110 01100100 00100000 01100001 01101110 01100100 00100000 01100100 01100101 01110011 01100101 01110010 01110100 00100000 01111001 01101111 01110101 00001010 01001110 01100101 01110110 01100101 01110010 00100000 01100111 01101111 01101110 01101110 01100001 00100000 01101101 01100001 01101011 01100101 00100000 01111001 01101111 01110101 00100000 01100011 01110010 01111001 00001010 01001110 01100101 01110110 01100101 01110010 00100000 01100111 01101111 01101110 01101110 01100001 00100000 01110011 01100001 01111001 00100000 01100111 01101111 01101111 01100100 01100010 01111001 01100101 00001010 01001110 01100101 01110110 01100101 01110010 00100000 01100111 01101111 01101110 01101110 01100001 00100000 01110100 01100101 01101100 01101100 00100000 01100001 00100000 01101100 01101001 01100101 00100000 01100001 01101110 01100100 00100000 01101000 01110101 01110010 01110100 00100000 01111001 01101111 01110101