Kojin, a young wingless female mirror. She is always a bit nervous due to past battles, but she really just wants to be able to have fun and do good things for other dragons. She trusts most of the guild members deeply.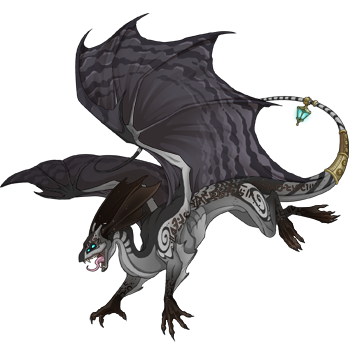 Krv, a young male mirror with a violent backstory. He is just trying to make amends with the guildmembers, and have become friends with some of them. Actually a good fighter, but sometimes fears what his own claws can do.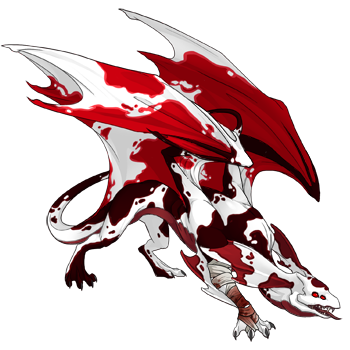 Fern, a young male pearlcatcher who isn't really into fighting. He like peaceful solutions, not violent ones.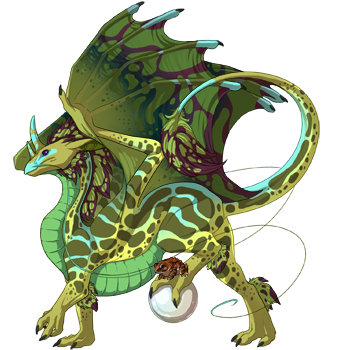 The three young dragons were left alone in the forest, each of them still trembling a bit. The woods were too silent, the shadows looming over them like claws trying to tear at their scales. One dragon finally broke the silence. "We have to go back." Kojin whispered, as her voice seemed to not want to work right after the encounter with their clan-mate. The other two dragons just nodded, and already knowing where, they all walked back through the woods, not another word being exchanged.
They were surprised to find that the entrance was unguarded. It was always well guarded by a snapped female mirror- Nightwatcher- and a silent male Imperial- Rune. But neither were there. "Do you think-" Fern started, but was immediately cut off by Krv's sharp glare. No one wanted to think about what could've happened. There were enough Nocturne's in their lair to put up a good fight, and if they were being controlled and had extra strength- then there was no knowing what they could've done. And so they did all they could do- go inside.
It was a mess. Dragons laid limp on the ground, some of their only movement the small rise of their chests. "We need to do something-!" Kojin started towards the dragons, but was suddenly tackled over by a large Nocturne. Her scales were a white color, but the paint-like pattern along her body made it look like blood was splattered all over her from previous fights. Crimson was one of the most dangerous dragons in the guild. And she had Kojin by the throat.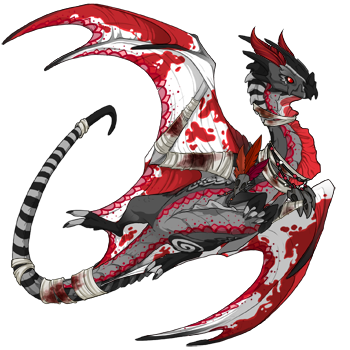 Kojin was trying not to tremble as she felt the dragons fangs lock around her throat, really to jerk back and tear it out. She heard the other two dragons surprised shouts, but her heart was beating too loud to make out if they were saying anything. 'I don't want to die. Please, please don't let this be my last breath.' She thought, knowing she couldn't get out of the dragons grasp. Other dragons would be able to flap their wings to annoy or distract the dragon. But her, the small wingless dragon could do nothing but wait for the sharp pain, then darkness.
Suddenly the dragon released her throat, lifting up her head in a roar of pain. Crimson whipped around, lashing her tail like a whip as she turned to face the two male dragons, Krv's snout dripping with Crimson's blood. Kojin pulled herself to her feet, even though they were shaking a lot more then she would like. Her hind legs tensed, then she leapt onto the Nocturne's back. Crimson flapped her wings viciously, roaring in outrage. Suddenly the dragon fell limp, and Kojin stumbled away. She looked over at her friends to find Krv standing over Crimson with a large rock. He gave a shrug that Kojin interpreted as 'what else did you expect me to do?' Giving the knocked out Nocturne a nervous look, she walked over to them. "Thanks…" She said, although she didn't think that saying thanks really was enough considering they had just saved her life. Krv gave her a concerned look, and Fern was just looking worried about everything, glancing around as if the Nocturnes were hidden everywhere. 'Which they could be.' Kojin thought, immediately becoming a bit more nervous. "You're bleeding." Krv said, and started to look through his bag for bandages. Kojin lifted a claw up to her neck, feeling the slight warmth of blood. "I'm fine." She said with a dismissive flick if her tail. "Let's keep going. We have to find this 'mimic' or whatever." As she walked away, she noted Krv and Fern sharing a concerned look. 'I'm fine. I'm fine.'
"Who do you think could've brought the mimic in?" Krv asked, clearly just trying to drive anyway the silence in the place that was usually so full of dragons. "I don't know. It could be anyone. It was probably an accident. I don't know of any Nocturne in here that would want to kill the guild." Fern said, his tone a bit hushed. All three of them knew what was being implied.
None of the nocturnes would, but maybe some of the mirrors would.
Splash.
All three of them jumped at the sound.
Splash.
It came again, and they all peered into the room. A large male Nocturne was in the water, lashing out at two dragons who was fighting him, without much hope in their eyes.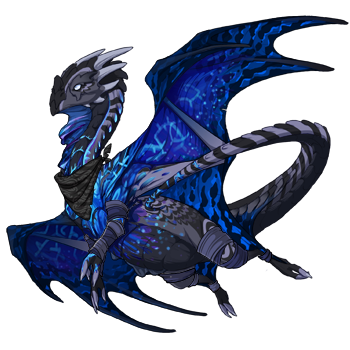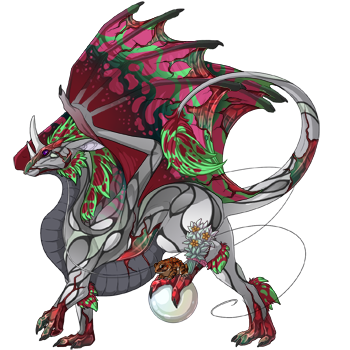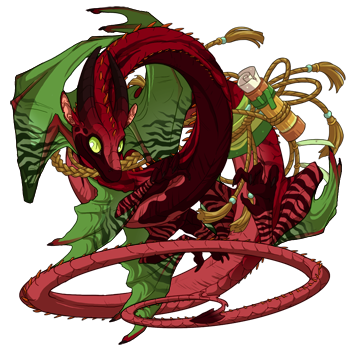 A male Pearlcatcher- Melon- was dodging his hits and then making small lashes back, and a male Sprial-Strawberry- was doing some fancy flying, trying to distract the dragon from hurting Melon. Suddenly the Nocturne made a leap, and caught the Spiral in his mouth, his fangs sinking into his scales. Strawberry cried out, trying to struggle out of the Nocturne's grasp. Melon lunged at the Nocturne's throat, but the fact that he hesitated showed clearly he didn't want to kill him. Of course. Who would want to kill one of the guildmasters?
Krv burst out of hiding and ran into Shadowripple's side, making the dragon off balance. He released his grasp on Strawberry to snap at Krv, and Melon quickly ran over to the Sprial's side. Kojin couldn't remember the details of the battle afterwards. It had been such a blur, but in the end Shadow was on the ground, pinned to the ground with rope that they had found. All of them had injuries, but none as bad as Strawberry's. The Spiral's breathing was labored, and Melon sat beside him, his eyes brimmed with tears. "You are going to be alright, ok? Ok. You can't die. I won't let you." The Spiral gave him a weak smile, but it was clear that he was in a lot of pain. Kojin was carefully wrapping up his wound in bandages. He would be alright, as long as no one came along and attacked them again. Melon started to speak without looking up from his friend. "It happened so fast. Suddenly, all the Nocturnes attacked everyone. Some of us were able to hide but…it was only a matter of time before we were found."
The three dragons had to continue. Melon stayed back to take care of Strawberry, but wished them luck. They had reached another room, but it was completely dark. Suddenly there was a small sound of laughing, but it almost seemed to echo itself.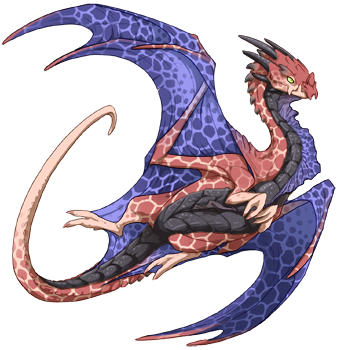 Two Nocturnes crept out of the darkness, their soft pink scales gleaming in the small amount of light. Without hesitation, the dragons lunged. Kojin immediately had to defend herself, but the dragons claws cut into her scales easily. She heard Krv shout something, and then the mirror attacked the Nocturne, forcing him away from Kojin. Kojin felt stunned for a moment as she watched the two dragons tearing at each other, but then she remembered the other dragon. Turning around, she saw the second one pinning Fern to the ground. She was just about to rush over to him before getting pinned herself. 'But- Krv was fighting- is he alright-' Her thoughts were in a rush, and out of the corner of her eye she saw Krv laying on the floor, his white scales almost completely covered in red. She couldn't tell if he was breathing. Her own breathing sped up, and the last thing she saw before passing out was her attacked roaring at some other foe. 'Fern?' Was her last thought before everything faded to black.
Snap. Snap. Snap. Whoosh.
Kojin opened her eyes to see a red mirror in front of her, muttering to himself as he started a fire. "Idiotic guild. Can't even keep each other from tearing each other apart." Kojin shifted, trying to see her friends. The mirror jumped a bit, looking at her. She was startled to see his eyes, a piercing ice blue. 'Ice Flight.' "Huh. Your awake." Kojin tried to sit up, but a wave of dizziness swept over her. "What- where-" She broke off into a fit of coughing. "Your in the guild. In fact, we are in somewhere that no one but me knows about. And your precious guildmaster. And the dragon who guarded me while I was imprisoned." He looked away, focusing on the fire again. "Imprisoned?" He paused, then nodded. "Yes, I suppose you wouldn't know the darker parts of this guild. But that doesn't matter right now. That idiot Nocturne brought a Mimic in here. Shadowripple, was it?" Kojin was stunned for a moment. Why would he bring one into the guild? "Not on purpose, but once the Mimic saw his weaker companion, Raal, he took control. In fact, the mimic is right above us. We just need to kill it."
Kojin gave a weak nod. "Well, now that that is clear…" the mirror looked her in the eyes. "I may as well tell you my name. It's Kinak."
Once Kojin got her strength back, she found her other two friends alive but injured, and not having yet woken up. Even if they waited for then to wake up, they wouldn't have been able to fight alongside them. It was a bit of trouble getting Kojin out, considering the whole 'no wing' thing, but she managed. Kinak froze. "It's over there. That chest, isn't a chest. Get too close, it will lung up and snap your throat in a second. Unless you befriend it but…" he narrowed his eyes. "I wouldn't befriend something like that." They crept closer, and Kojin couldn't help but whisper. "So what is your familiar then?" Kin paused. "A corrosive depin. Actually that could work." He muttered the last part. "What could work?" Kojin asked, slight edge of excitement in her voice. "The corrosive depin can melt stuff, it's acid is pretty strong…" He grinned, and then whispered something. Suddenly the depin appeared, a bubble of water surrounding it. Kojin noticed how much alike the dragon and familiar looked as they crept closer to the mimic. "Okay. You bait it, so it will open its mouth then…we end it." Kojin nodded. This was it. This was where everything could go right…or horribly wrong.
Kojin leapt in front of the Mimic, and its mouth opened with surprisingly agility, sharp fangs showing. She still felt surprised that the chest looked so…not alive. And now it was trying to kill her. Only a second later the depin used its acid on the mimic. It made a screeching sound as it melted, the mimic now gone. Kojin stumbled back into a sitting position with a sigh of relief. "Is that it? Did we do it?" She said, turning to Kinak. But he was gone. As if he had never been there.
The next day was full of dragons recovering, and Nocturnes apologizing to the dragons, even if it hadn't been their fault. No one had been killed, but plenty were wounded. All the dragons saw Kojin, Krv, and Fern as heroes. Krv and Fern insisted that Kojin did it all. But she insisted that it was a mirror. A mirror by the name of Kinak.
A mirror that no one remembered but her.
((This ended up a lot longer then I expected, and I had actually wanted to add more! Sorry about the length, kinda got into the story. ))