[Well, I got carried away with this one. I can see about breaking this post up if it's too long, but I had quite a bit of fun writing this story up! And seeing how it asked for a trio of dragons to solve this problem, I figured Prince Aden and his companions Anubis and Arcturus here would work quite well here.]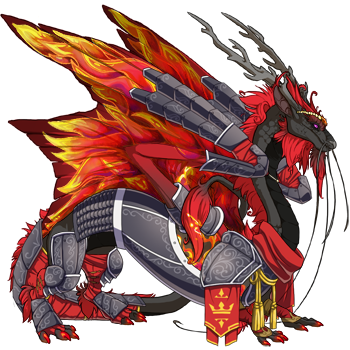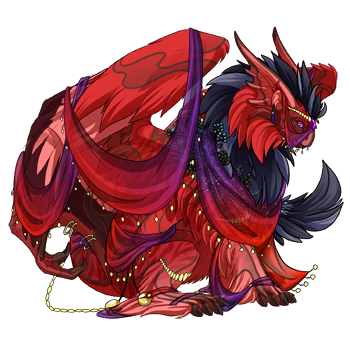 "Hurry! Hurry!"
Anubis clung tightly to Aden's giant tail as the two dragons dashed across the wide open field surrounding the citadel. Behind them, Arcturus was struggling to keep up. In the chaos that had taken their lair by storm, he'd bashed a wing during their escape and was falling behind the other two dragons. And just behind him was the Visionary. None of the three had ever seen her move so quickly, but there she was, chasing after them and laughing maniacally. With a great leap, she tackled Arcturus to the ground.
"Arcturus!" Anubis screamed! "No!"
"Leave me, save yourselves!" Arcturus yelled back. "Argh!"
The mighty Imperial, Aden, halted in his tracks. Despite the danger- despite knowing that the best thing to do right now was to leave the citadel as far behind him as he could- he couldn't abandon his companions. "I've already lost the rest of this clan today," he said. "I am not losing you, too!"
All too late, Anubis realized what was happening, as Aden turned himself around. Before he could say anything, the Imperial pounced at Arcturus, just as the Visionary raised her claws to strike the Tundra down. Arcturus closed his eyes tightly, bracing himself for the blow…
---
What seemed like an eternity passed before he dared to open his eyes again. When he did, he found himself floating in an endless sea of stars. Was he dead? No, he couldn't be, Aden and Anubis were here too. As was the Visionary, who was now floating in the arms of a constellation. A constellation that began moving, setting the Nocturne down on the ground before slowly turning into a dragon.
"You say your name is Shadowsong?" Aden asked, once Shadowsong had begun to explain what was going on. "Why does that name seem so familiar? I swear I've heard it before."
"This is not the first time your lair has fallen victim to these Mimics," Shadowsong replied. "Nor is it the first time I've come to your clan's aid. I am not surprised most of you don't remember what happened back then, of course."
"I think Manasurge talked about you occasionally," Arcturus said, as he worked to tidy up his fur. "Wasn't she one of the first ones that fell victim to this?"
"Mmmm… they may believe her to be a threat after what she's done," the Nocturne said. "Whatever the case, it would seem that the only ones who can save your clan now are you three."
"Us?" Anubis yelped. "But- but- but- but we're not warriors or mages! We can't do anything here! We were told to run away!"
"Besides, we already have the culprit here," Aden said, stepping forward. "Surely, now that you've dealt with the Visionary-"
"No, it's not her who is responsible for bringing the Mimic into your lair," Shadowsong said, shaking her head. "One of the other Nocturnes in your clan did this."
It took only a second before Aden understood. "Nerzhul," the Imperial said. "He was the one who started doing… something to the other clan members, and locking up those who weren't affected. He's the one we need to stop, isn't he?"
Shadowsong simply nodded.
"But we're not warriors!" Anubis yelled again, as the Nocturne began to turn back into a constellation. "What can we do? We… we're going to die! Augh!"
"We're not going to die," Aden said, as the world faded back into view. "Arcturus, do you remember that dream bubble potion I was working on before this all got started?"
"Yes, but what does that have to do with stopping this Mimic?" Arcturus asked.
"Because if it hasn't boiled over, we might be able to use it against Nerzhul. Come. We're heading back to the citadel."
"What?" Anubis yelped. "No! We can't! We're all going to end up like them!"
"No, we won't. You're right, we're no warriors. But we're the only ones who can save our clan. Quickly, we don't have much time before her song wears off. I think I have an idea of how to fix this..."
---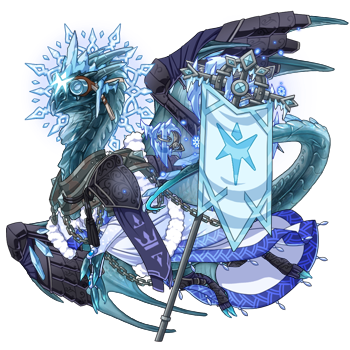 Night was beginning to fall as Nerzhul escorted Wildstar back to the citadel. It was far from the first time the Nocturne had caught her in the act- even though her old gang, the Black Nova Bandits, was long gone, the Tundra often couldn't help but fall back into her old criminal ways. So it had been this time, as she'd been stealing some treasures from Treble's latest dig side. Nerzhul wasn't sure yet if he'd return the treasures to her or not, as he had yet to give them a close inspection. But already, one item in her bag had stood out to him.
"What is this?" Nerzhul asked.
"She said something about it being a genuine Second Age clock, in near perfect condition," Wildstar replied, as the two entered the sheriff's office. "Honestly, you should let me keep it. I'm sure I'd take better care of it than her. She'll probably end up breaking it or something."
Nerzhul was unimpressed by Wildstar's pleas. He gestured for his Cragward Custodian to lock the Tundra up for a while until the rest of the clan council could decide what to do with her.
"They're probably just going to let her off easy again," he grumbled to himself, as he pulled the clock out of its sack again and stared at it. "If only I could stop her criminal ways for good."
What if you could do just that?
said a voice from somewhere, but Nerzhul couldn't quite pick out where.
You could stop her for good. Stop all of them from causing any more trouble. Forever.
"I… yes. Yes, I could do just that," Nerzhul said, picking up the clock and gazing into it. "Why didn't I think of this before?"
It was unclear how much time passed with him staring silently at the clock before a tapping on the bars of the cell caught the Nocturne's attention. "Hey, so uh, Nerzhul? When are you going to let me out of here?" Wildstar asked.
In a flash, Nerzhul suddenly turned and unleashed a blast of ice magic at the Tundra. And just like that, she was frozen not just in ice, but in time.
Yes, yes. Freeze this whole lair, freeze this whole world,
the voice in the clock said.
That way, nothing will ever cause trouble again.
Lost to whatever spell the clock had placed him under, Nerzhul jumped onto the shoulder of his Custodian. "Come on!" the Nocturne said. "I should have done this long ago. It's time to punish them all for causing so much trouble!"
---
Aden, Anubis and Arcturus made their way back into the citadel. No one had bothered to close the gate behind them, so they were able to walk right in. It didn't take long before they were greeted with a terrifying sight. The other dragons of their clan had been frozen in place- some individually, some in groups.
"Nerzhul's gone mad," Arcturus said, shivering. This cold was getting to him, even with his thick fur. "What could possess him to freeze our entire clan?"
The trio stopped short upon seeing a particularly frightening scene- Manasurge and Sanguine, both frozen in time. They looked as if they had been frozen in the middle of a battle, as Manasurge's twelve eyes were glowing with power as she was beginning to unleash a blast of Arcane energy. Wait, since when did Manasurge have twelve eyes?
"Ice can't freeze magic like this, can it?" Anubis asked.
"I don't think so," Aden replied. "There is something very odd going on here."
But what exactly that was didn't become clear until the approached the building containing Nerzhul's office and jail. In front of the entrance, a dozen dragons led by the living furnace, Etna, had apparently attempted to confront Nerzhul, only to have become frozen like all the rest. And yet, Etna's flames hadn't gone out. They, too, were frozen in place.
"Now I see," Aden said. "Normal ice would have extinguished Etna's flames. They must all have been frozen in time as well."
"What?" Anubis asked. "How's that possible?"
"That mimic must have something to do with it," Arcturus said. "If it can affect time, that might explain why nothing seems to have moved at all since we returned." He looked up at the skies for a moment. "I don't think the clouds are moving up there. Or the stars."
It was becoming clear to all three of them that if it weren't for Shadowsong's magic, they, too, might have become stuck in time by now.
"So what do we do now?" Anubis asked Aden.
"I'm going back to my chambers to fetch the dream bubble potion. If we can trap Nerzhul in a dream bubble, that might give us enough time to find the mimic and put an end to this. I need you two to distract him so I can get into position."
"But… but he hates my dancing! And his poems!" the Spiral protested, gesturing towards Arcturus.
"That's what I'm counting on," the Imperial replied with a smile, before dashing off towards his chambers, leaving the other two dragons alone outside Nerzhul's door.
It was several minutes before either one of them spoke again. "So… you get him to come out!" Anubis said, as he cowered behind Arcturus.
"Me? Why me?"
"Ah… because… because it's too cold for me to dance! Really!"
Arcturus didn't believe that for a minute, but with a grumble, he'd step closer to the door. He'd have to come up with something on the spot."Nerzhul!" the Tundra called out. "Come out of there! Uh… the stars usually shimmer so beautifully, but tonight… they seem to be stuck. Do you… do you want to come and see?" He silently cursed himself for coming up with something so lame, but under the circumstances, he doubted he could have done much better.
Regardless, his words had the desired effect. "What are you babbling on about?" came Nerzhul's voice from within. Seconds later, the door flew open and the Custodian emerged from within, with the Nocturne riding on its shoulder as always. But this time he was carrying a clock in his claws. Where had he gotten that?
"I thought I'd taken care of you already," the Nocturne grumbled. "No matter. I'll freeze the both of you right here! Hhhrah!" Nerzhul unleashed a blast of ice magic towards Anubis and Arcturus, and they both braced themselves for the impact. But to everyone's surprise, it never came.
"What?" Nerzhul yelled, as he sent forth a second blast. "Why isn't this working? Why?"
Snarling in frustration, the Nocturne and his Custodian chased after Anubis and Arcturus, hurling blast after blast their way. The two were managing to distract Nerzhul, as he didn't notice Aden coming up behind him until the Imperial started to blow a great big dream bubble.
"No!" the Nocturne growled, still clinging to the shoulder of his Custodian as it backed away. "I am not going in there! This is no time for dreams! I have important work to do!"
Aden grumbled. He knew it wasn't going to be easy to get Nerzhul in there, even as the Nocturne started throwing blasts of freezing magic at him, too. But finally, with a deafening roar, the Imperial pounced at the duo, sending them all flying into the bubble. The clock fell from Nerzhul's clutches and landed on the ground. To Anubis and Arcturus's horror, however, before Aden could come back out of the bubble, it and everything around it froze in place, trapping him, Nerzhul and the Custodian inside just like the rest of their clan.
"Aden! No! How are we going to find the mimic now?" Anubis yelped.
It was only a few seconds before that question answered itself, as the clock suddenly stood up and began to grow to an enormous size. More frightening still, a mouth with dozens of sharp teeth opened up beneath the clock face as the mimic revealed its true form.
"So!" the Time Devourer yelled, a clattering of gears and cogs punctuating its every word. "You have taken that foolish Nocturne away from me. No matter, I don't need him anymore. With the power I've gained from him, I'll be able to stop time forever, starting with the two of you!"
Arcturus backed away slowly, gazing up at the enormous monster. "I think we've found our mimic!" he said to Anubis, who was once again clinging to the Tundra and screaming in terror.
"What do we do? What do we do?" the Spiral yelled.
Arcturus had no idea. Normally, the two of them could always have relied on Aden for guidance, but now he was out of reach. In desperation, he tried throwing a few bolts of arcane energy at the Time Devourer, most of which simply bounced uselessly off of it. But then, by chance, one of Arcturus's spells hit one of the hands of the clock, nudging it forward, and for a second everything around them moved just a little.
"Ah! The hands! Go for the hands!" he yelled at Anubis.
"What hands? Clocks don't have hands!" the Spiral replied.
"The pointy things! Hit those! I think that's how it's controlling time!"
The Tundra charged towards the mimic, while Anubis held back and watched in terror. With every hit Arcturus landed on the hands, they seemed to grow looser and looser, until finally he was able to send one spinning off completely! But it would be all he would be able to do, as with a deafening roar, the mimic blasted Arcturus with the same magic Nerzhul had been using, freezing him in mid air. Anubis was on his own now, and this was not a place he wanted to be in. He flew around in a panic, tying himself in knots again and again.
"Enough!" the mimic shouted, as it turned its attention towards the Spiral. "You're the worst one of them all! Would you just… stop… moving!"
In a panic, Anubis sprung right towards the Time Devourer and wrapped himself tightly around its remaining hand. "Augh! That hurts!" the Time Devourer yelled. "Stop that! Stop everything!" The Spiral continued to pull on the hand, hoping he was moving it in the right direction. With one last effort, he finally broke it off and went tumbling to the ground.
That seemed to do the trick- the mimic began wobbling back and forth before finally collapsing on its back, shrinking back to its normal size as it did so. In that instant, all the time that it had gobbled up was released, and the imprisoned dragons were all released at once. For a moment, the courtyard echoed with the sounds of their various spells and attacks smashing uselessly into the walls, their original target having been long gone. Aden's dream bubble fell to the ground as well, where it burst, releasing its occupants.
As the rest of their clan pulled themselves back together, trying to make sense of what had just happened, the Imperial joined Anubis and Arcturus to examine the mimic. "So this was the culprit all along?" Aden asked.
"Indeed it was," said a voice behind him, and all three dragons turned to see Shadowsong emerging from her constellation, bringing the Visionary with her. "You've done well. I can take care of this from here."
"W-wait!" Anubis said, flying over towards the Visionary. "So if Nerzhul and this… fake clock were responsible for all this, why did you attack us?"
"I'd known something like this was going to happen for some time now," the Visionary replied. "You see, this mimic is what is known as a Time Devourer. It wanted to eat up all of time so that nothing would ever happen again. Once it got to work, though, it had the side effect of robbing me of my abilities to see the future. How could I see the future when there wouldn't be one any more? It drove me mad. That's why I attacked you three, and for that, I do apologize."
"Well, it seems that you two managed to put a stop to it," Aden said to his companions. "But as for Nerzhul here…" He turned as the Nocturne finally stirred. It seemed that when he'd been separated from the mimic inside the dream bubble he'd been knocked out, and was only now stirring.
"Ugh… what happened?" the Nocturne groaned, clutching at his head. "All I remember is that clock speaking to me and then… why was I in one of your dream bubbles, Prince Aden?"
"It's a long story. But I'm sure Shadowsong here could… Shadowsong?" Aden turned just as the Nocturne started turning back into a constellation, cradling the Time Devourer in her arms.
"I must go now," she said, as she faded from view in the growing sunlight. "There are other clans that still need my help. But perhaps we shall meet again."
"Wait! Wait!" Anubis said, as Shadowsong and the mimic vanished completely. "Come back! What are you going to do with that thing? It.. isn't it dangerous?"
"Hmm. Perhaps it's better that we don't know," Arcturus said, smiling at the Spiral. "Come on. Everyone's going to want to know what happened, and who better to tell that story than us?"
Arcturus and Aden turned to rejoin the rest of their clan, but Anubis, for once, stayed still, staring off at where Shadowsong had vanished for a moment. But only for a moment, as with a flick of his wings, the dancer quickly went to chase after them.
---
On a dusty shelf in some forgotten corner of the Tangled Wood, the Time Devourer stood silently. As the shadows started to swallow it up once more, it thought to itself. Maybe being a genuine Second Age clock in near perfect condition wasn't such a bad thing after all.
Good luck finding anyone who knew how to repair it now, of course.