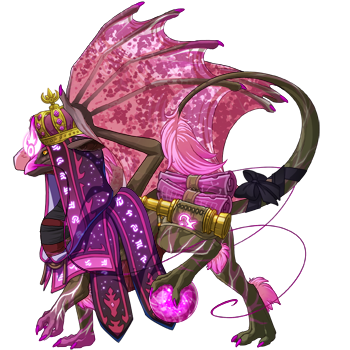 This is Bruh, the Arcane Ambassador and the Scholar. This derg is very smart and extremely curious, which, when mixed with his rather hair-brained nature, often leads to interesting results. He recently lost his sister and brother-in-law, and he is worried about his mother's isolated nature in the aftermath of the incident.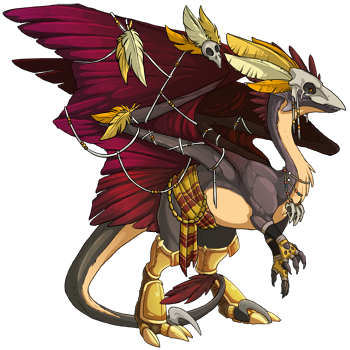 This is Bloodclaw, Bruh's mother and the original clan battlemaster. She's lost a lot of nests, and understand the desperation, the primal need to help hatchlings in danger. Bloodclaw is also one of the eldest dragons in the clan; she's a seasoned warrior and knows her way around sornieth fairly well.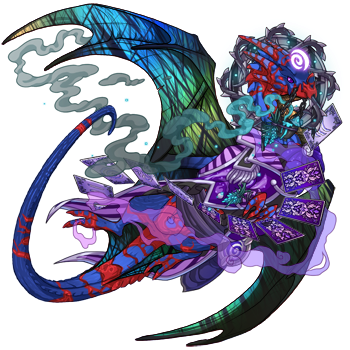 His final companion is Iuriti, the clan's eldest nocturne and one of the clan's many magic specialist. A trickster by trade, she's learned to use her natural inclination for mimicry to her advantage, gaining trust and power. Iuriti is not only the eldest nocturne in the clan, she's one of the eldest nocturne's period; her egg was discovered during the very first night of the nocturne, making her a perfect Shadow Ambassador. Though she hasn't traveled nearly as much as Bloodclaw, she knows shadow territory like no other dragon in her clan.
Bruh submitted his plight to the clan god and leaders. Meaghan suggested the two companions, but it was up to him to convince them to follow along. Iuriti is smart and curious, almost as much as Bruh himself, so it took her very little to realize what was at stake.
Bloodclaw was a bit of a different story. She agreed. It was time for her to hunt again.
The three dragons made their preparations and set out immediately into the deep, dark, Tangled Wood.
---
"Thhhhhhh." Iuriti's lisp did not mask the panic in her voice. Bruh skittered to a halt, and his mother growled (as did her Hoarfrost Mauler, Aissikul).
"There ith thomething cloth by. Ith doeth not-" the nocturne frowned, "-doeth not theel righth."
Bruh shifted feet nervously. "Maybe I should...ah, perhaps, uh," he trailed off mumbling but he seemed to be reaching for his maps, so Iuriti assumed he was checking their position. They were similar in age, but the nocturne had never payed too much attention to the scholar, usually far too busy with her own studies.
"This way!" Bloodclaw's voice carried over the bramble.
"Oh, yes, coming mother..." Bruh stuffed his map hastily back into it's holder and trotted towards her. Iuriti followed suit.
"I have found the entrance to their lair," Bloodclaw continued, as the two younger dragons picked their way through the vines, "the hatchlings will be inside!" The needle-point thorns seemed endless.
One tore a gash in Bruh's back leg, and he gasped.
"NO!" Iuriti called, a moment too late. In his moment of panic, Bruh had loosened his grip on his pearl, and it was snatched from him by a streak of crimson. He looked around wildly, eyes wide and terrified.
"My pearl, where is it? My pearl!"
Thana cackled. "Looking for something?" she hissed in his mother's stolen voice.
Bruh whimpered.
"Come now, I thought you'd be glad! This is the most you've heard your mother's voice in ages." The nocturne purred.
"You don't, I...you're evil!" Bruh decided eventually.
"My poor boy, always forgotten, even by your own motheA-" Thana cut off, slipping for a moment into her own voice as Iuriti shot out of the bramble like a rocket. Iuriti swiped at the other nocturne and Thana shrieked and dove to avoid her.
This seemed to break Bruh out of his stupor, and he began to struggle closer through the underbrush.
Bruh felt like crying. Without his pearl he was nothing, an empty shell, he could not loose his pearl! His front paw got stuck in a looping vine and he tripped, tugging blindly to try and get free. The tension cut abruptly, and he righted himself to see Chomper, Iuriti's Jawlocker guardian. The mimic clicked at him, then crunched his way through several more brushes, and Bruh picked himself up and limped after his friend's familiar.
Their progress was slow. Iuriti was successfully distracting Thana for the moment, but she was ultimately out of her depth. The red nocturne out-flew her at every turn, her only strength was her reinforced wings, which threw off Thana's attacks easily.
Even with Chomper's help, Bruh found it hard to navigate the terrain. The situation quickly became worse as other familiars began to approach the two grounded creatures. Bruh found himself to mentally unbalanced to reach for his magic, and Chomper could only do so much against some of the bigger mimics. They broke out of the bramble just in time to see Iuriti get knocked out of the air with a well-timed tailswipe from Thana.
Chomper gnashed his teeth in distress and bounced towards his charge. Mimics surrounded him quickly and cut him off. Bruh stared up at Thana in horror.
"Well, little pearl-less catcher," the nocturne's true voice made Bruh's scales stand on end. She dragged her claws on the edge of his pearl, and Bruh felt it mark his soul. He shrank back with a wordless plea. "Oh, did that hurt?" She laughed.
"Leath him alone!" Iuriti lifted herself up and Thana growled and whipped around to face her.
"You know what?" she clicked her tongue, "I think just for that I'll-"
Thana didn't get to finish her sentence. Bloodclaw crashed through the clearing and sent the smaller dragon flying. Thana hit a tree with a sickening crack.
Bloodclaw clicked her scythe claws, bent to place a possessive paw on her son's pearl, and gave a high, grating cry. Thana tried to lift herself up, but her wing was mangled and she was beginning to look panicked.
"N-now listen," Thana slipped into a facsimile of another familiar voice, "I'm sure we can-"
Bloodclaw growled loudly in response. She left the pearl and advanced. Slowly. Deliberately. She towered over the other dragons in the clearing, crimson wings spread wide in display.
The mimics had scattered when she'd entered the clearing, and Aissikul was quick to ensure they would think twice about coming closer again. Chomper helped Iuiriti to her feet. Bruh crept forward behind his mother and snatched his pearl back.
"The children are in the brush, to the east," Bloodclaw spoke to her companions without turning from her target. "Go."
Bruh threw a glance over his shoulder. His mother was still advancing on the downed dragon. Best leave them to it.
They did find the hatchlings. Aissikul led them through the forest and broke through the mimic ranks. Chomper locked them both securely in his mouth, and the group began to make their way back. They circled back around, but didn't meet Bloodclaw again till they were almost at the boarder.
"I took care of her," was all she would say to their questions. "The hatchlings?"
"They are thecure," Iuriti assured her. Bloodclaw looked over Bruh once, huffed, and took the lead again.
It was time to bring the hatchlings home.