TOPIC | Wandering Winds {DISCONTINUED}
TACOS! :D
TACOS! :D
.................

Maya | She/Her | FR+0 |

Wishlist
[center][item=haunted stone orb] (Lost stuff :P) [b]Day 44:[/b] Lost raised her head to the sky, the cool breezes ruffling the mane that she hid beneath her hood. The sun was particularly bright today. It made her feel queasy inside, but also repelled the shade magic that constantly squirmed at her clawtips. She had mixed feeling about it, like some sort of passive-aggressive relationship. The taste of bird meat and grilled fish still lingered on her tongue, and she could still remember the feel of the crunch of the lily pad between her teeth. That Patryck fellow was very good at cooking. Opal and August took turns sipping out of the weird wooden cask they'd received, licking their lips in contemplation. [b]"What is this?"[/b] August asked, eyeing the muted green liquid inside. [b]"Minty jadevine, luvs."[/b] Rikki explained, turned her head to face them with a rather amused expression. [b]"You can only find it in the Ice, Light, an' Wind territories, which is good for us, because it's delicious. Better than any other ol' jadevine."[/b] She added. Opal tipped her head to one side, her wings twitching restlessly. [b]"Tastes like liquified spearmint ice breakers mixed in with a little of honey, with the density of a smoothie."[/b] She mused, smacking her lips. [b]"Also feels like you've been struck by lightning from the Stormcatcher himself."[/b] August leaned on her shoulder uneasily, the bottle his held in his hand shaking along with the rest of him. [b]"V-v-v-very c-caffeinat-t-ted."[/b] he guessed. Rikki barked a laugh. [b]"Oh naw, hun."[/b] She said, grinning like minty jadevine was the best thing since sliced bread. [b]"It's natural. Some sorta weird magic doohickey that has to do with the unique flavor. The only side-effect you get from drinking too much of that is a real terrible headache."[/b] [b]"Well, that's a relief."[/b] Opal said with a slightly maniacal grin. She grabbed the bottle from August and drank a bit more. [b]"Might go well with some squirrel though."[/b] Rikki rolled her eyes. [b]"You teens and your endless pits for stomachs."[/b] She muttered. Neither August nor Zaffer rose to contradict this, but guiltily looked away. Opal, however, decided to retort with: [b]"Hey! We're almost adults now!"[/b] Rikki snorted. [b]"Barley. I'll give ya more time."[/b] Lost dared to smile at this. A warm tingly feeling seemed to rush up her spine. Being adopted into this random mash-up of a family is the best thing that could have happened to any dragon. A cloud drifted in front of the sun, and a temporary shadow fell over the earth, quickly scaring away Lost's warm feelings. [i][font=chalkduster]Don't get too comfortable, little dragon.[/font][/i] A voice stirred by her darkest thoughts sneered, gripping her spine with ice-cold talons. [i][font=chalkduster]Nothing lasts forever, especially this[/i][font=chalkduster] family [i]of yours.[/font][/i] Lost bared her teeth in a hurt, angry grimace, her grip tightening on the pearl resting beneath her talons, the solid embodiment of her foreboding past. Her memories of the shade seemed to swim over it's surface, it's multiple frothing, snapping heads moving in unison with the voice that slithered through her head. [i][font=chalkduster]If you ever want to be free again, you know what you have to do.[/font][/i] It snarled, grotesquely shifting from one monstrous shape to the next, it's empty eyes of pure nothingness glaring straight into her soul. Her scarred, injured soul. [i][font=chalkduster]After that, they won't like you. [/i][font=chalkduster]Nobody[i] will like you![/i][/font] [i][font=chalkduster]You'll be shunned and hated, that one dragon who would do anything for those who have already been Lost.[/i][/font] It sneered, sensing the irony. [i][font=chalkduster]You don't want that.[/i][/font] It continued lazily, making Lost's vision swim. [i][font=chalkduster]And yet, it's the only way you'll be free.[/i][/font] Lost began to feel her consciousness begin to slip through her claws, and she was janked into a dream. Or a dream-like state, with her landscape blurred and fuzzy and emotions uncontrolled by common logic. She found herself in a wispy forest made of graying trees, their twisted forms swimming in and out of focus. It took a moment for her to realize she was not along in this dreamscape, an oddly shaped young spiral swimming circles in the space before her. He stopped twirling and turned to face her, meeting Lost's gaze with startling white eyes. His body was shrunken and scrawny, pure-white bone tracing outlines into his metallic brown scales. [url=http://flightrising.com/main.php?dragon=39886823] [img]http://flightrising.com/rendern/350/398869/39886823_350.png[/img] [/url] In a confusing sort of way, he was kind of cute. Lost could already tell they shared pain. Both scarred by the shade. Both pushed just beyond the limit of being able to be repaired. [b]"Hello."[/b] Lost said cautiously, unsure of where she was. Her voice came out stringy and weird, like someone had altered it like they would an electric guitar and then decided to run a solo with it. [b]"Hello."[/b] The spiral repeated, his voice vibrating with the air and seemingly coming from all directions. [b]"Do you want to play? I want to play,"[/b] he murmured almost drowsily. Lost nodded slowly, feeling her otherworldly consciousness slip away. They played a ghostly game of tag, phasing through trees and each other and they chased one another with somber expressions and haunting laughter. Eventually, without a word to one another, they gradually stopped, sharing a haunted gaze they both held within themselves. Lost could see the spiral about to lift his arm in farewell, when a scale-prickling sensation at the back of her neck yanked her back into reality with the gentleness of a sledgehammer. The other dragons, who had moved on ahead, turned around to face her with concern. They had moved a lot less than they should have. [i]What did I just do?[/i] Lost wondered, glancing at her talons as if they might become transparent and be able to reach through solid objects once more. [b]"I'm fine."[/b] She insisted aloud, looking at the dragons with what she hoped was a reassuring smile. Most of them smiled back. Before they could invite Lost to hurry up, she felt the odd sensation of someone watching her again. She whirled around, searching for any dragon that could have been watching her. Watching her be consumed by the darkness. The shade's voice had retreated, and the millisecond she'd been in the weird dreamzone the sun had shown up again, welcoming back those warm, fuzzy thoughts. Lost pried apart the courtyard with her eyeballs, settled on a pair on curious electric blue eyes peering at her inquisitively from behind another food stall. The soft, rounded face of a spiral met her eyes, their color not unlike Juno's. These seemed to be slightly bluer though, with a sort of desperate need to mean something reflected deep within. Only the dragon's head was visible, but it seemed to glitter in the exposed daylight. Lost instantly thought this head was attractive, despite her average sense of logic. She raised her mysterious white eyes and the two dragons held each other's gaze, each looking at another dragon with another destiny. Then the spiral abruptly turned and fled down a different pathway, his shiny blue tail whisked away like leaves carried by the wind. Lost momentarily had a serious case of déjà vu right then, the encounter eerily similar to that of the other ghost spiral's, though she could quite plainly see they had no connection. Slowly turning back around, she hurriedly made her way back to her friends, ones she didn't plan on betraying or deceiving for a long time.[/center] ------- [size=2]@AmberHive @mayanaz @Spottedleaf125 @KallyPaige @Skyeset @Moon314@WildRose42 @PrussianWizards @CleverDual @Firedawn @Dragondreamer@Shadow104 @ScaledBookworm @LuminusPrime @DragonMist@Shadowhunter43 @Digimon11 @MythicalMemeLord @GhostBreath @Vyxen@VioletEevee @Verdant @Faolyn @Bluebirdi3 @ThornOfStorm130 @ObsidianMage@Catkidemma @WhoOwlborn @Bitterbluesky @RedFennel[/size] So, I near literally poured my very life essence into this update, but don't worry about me. I'm still alive. The spiral with ghost that you met during Lost's mysterious dream moment was Cold from @Avu42's pinkerlocke. They might see each other a little more in the future and might have a cross-pinkerlocke ship or something ^w^ [s]weird ship name though[/s] Also, today was a trinket, so please enjoy this beautiful art made by @ouranjiechan: [img]https://pre00.deviantart.net/7df9/th/pre/i/2018/078/1/8/pearlie_by_luvbourn-dc6dljb.png[/img] And this gorgeous art of Jade from @CrAZDragon: [img]https://i.imgur.com/OyJa3Un.png[/img] Also, spearmint ice breakers don't really exist in the dragon world. I just wanted to shape what it might taste like for you guys :)
(Lost stuff :P)
Day 44:
Lost raised her head to the sky, the cool breezes ruffling the mane that she hid beneath her hood. The sun was particularly bright today. It made her feel queasy inside, but also repelled the shade magic that constantly squirmed at her clawtips. She had mixed feeling about it, like some sort of passive-aggressive relationship.
The taste of bird meat and grilled fish still lingered on her tongue, and she could still remember the feel of the crunch of the lily pad between her teeth. That Patryck fellow was very good at cooking. Opal and August took turns sipping out of the weird wooden cask they'd received, licking their lips in contemplation.
"What is this?"
August asked, eyeing the muted green liquid inside.
"Minty jadevine, luvs."
Rikki explained, turned her head to face them with a rather amused expression.
"You can only find it in the Ice, Light, an' Wind territories, which is good for us, because it's delicious. Better than any other ol' jadevine."
She added.
Opal tipped her head to one side, her wings twitching restlessly.
"Tastes like liquified spearmint ice breakers mixed in with a little of honey, with the density of a smoothie."
She mused, smacking her lips.
"Also feels like you've been struck by lightning from the Stormcatcher himself."
August leaned on her shoulder uneasily, the bottle his held in his hand shaking along with the rest of him.
"V-v-v-very c-caffeinat-t-ted."
he guessed. Rikki barked a laugh.
"Oh naw, hun."
She said, grinning like minty jadevine was the best thing since sliced bread.
"It's natural. Some sorta weird magic doohickey that has to do with the unique flavor. The only side-effect you get from drinking too much of that is a real terrible headache."
"Well, that's a relief."
Opal said with a slightly maniacal grin. She grabbed the bottle from August and drank a bit more.
"Might go well with some squirrel though."
Rikki rolled her eyes.
"You teens and your endless pits for stomachs."
She muttered. Neither August nor Zaffer rose to contradict this, but guiltily looked away.
Opal, however, decided to retort with:
"Hey! We're almost adults now!"
Rikki snorted.
"Barley. I'll give ya more time."
Lost dared to smile at this. A warm tingly feeling seemed to rush up her spine. Being adopted into this random mash-up of a family is the best thing that could have happened to any dragon.
A cloud drifted in front of the sun, and a temporary shadow fell over the earth, quickly scaring away Lost's warm feelings.
Don't get too comfortable, little dragon.
A voice stirred by her darkest thoughts sneered, gripping her spine with ice-cold talons.
Nothing lasts forever, especially this
family of yours.
Lost bared her teeth in a hurt, angry grimace, her grip tightening on the pearl resting beneath her talons, the solid embodiment of her foreboding past. Her memories of the shade seemed to swim over it's surface, it's multiple frothing, snapping heads moving in unison with the voice that slithered through her head.
If you ever want to be free again, you know what you have to do.
It snarled, grotesquely shifting from one monstrous shape to the next, it's empty eyes of pure nothingness glaring straight into her soul. Her scarred, injured soul.
After that, they won't like you.
Nobody will like you!
You'll be shunned and hated, that one dragon who would do anything for those who have already been Lost.
It sneered, sensing the irony.
You don't want that.
It continued lazily, making Lost's vision swim.
And yet, it's the only way you'll be free.
Lost began to feel her consciousness begin to slip through her claws, and she was janked into a dream. Or a dream-like state, with her landscape blurred and fuzzy and emotions uncontrolled by common logic. She found herself in a wispy forest made of graying trees, their twisted forms swimming in and out of focus.
It took a moment for her to realize she was not along in this dreamscape, an oddly shaped young spiral swimming circles in the space before her. He stopped twirling and turned to face her, meeting Lost's gaze with startling white eyes. His body was shrunken and scrawny, pure-white bone tracing outlines into his metallic brown scales.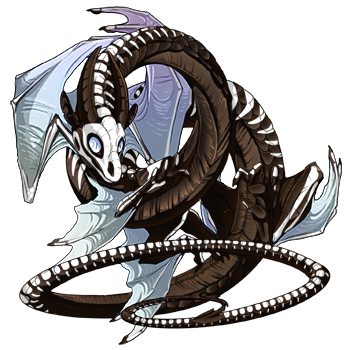 In a confusing sort of way, he was kind of cute. Lost could already tell they shared pain. Both scarred by the shade. Both pushed just beyond the limit of being able to be repaired.
"Hello."
Lost said cautiously, unsure of where she was. Her voice came out stringy and weird, like someone had altered it like they would an electric guitar and then decided to run a solo with it.
"Hello."
The spiral repeated, his voice vibrating with the air and seemingly coming from all directions.
"Do you want to play? I want to play,"
he murmured almost drowsily. Lost nodded slowly, feeling her otherworldly consciousness slip away. They played a ghostly game of tag, phasing through trees and each other and they chased one another with somber expressions and haunting laughter.
Eventually, without a word to one another, they gradually stopped, sharing a haunted gaze they both held within themselves. Lost could see the spiral about to lift his arm in farewell, when a scale-prickling sensation at the back of her neck yanked her back into reality with the gentleness of a sledgehammer.
The other dragons, who had moved on ahead, turned around to face her with concern. They had moved a lot less than they should have.
What did I just do?
Lost wondered, glancing at her talons as if they might become transparent and be able to reach through solid objects once more.
"I'm fine."
She insisted aloud, looking at the dragons with what she hoped was a reassuring smile. Most of them smiled back. Before they could invite Lost to hurry up, she felt the odd sensation of someone watching her again. She whirled around, searching for any dragon that could have been watching her. Watching her be consumed by the darkness.
The shade's voice had retreated, and the millisecond she'd been in the weird dreamzone the sun had shown up again, welcoming back those warm, fuzzy thoughts. Lost pried apart the courtyard with her eyeballs, settled on a pair on curious electric blue eyes peering at her inquisitively from behind another food stall.
The soft, rounded face of a spiral met her eyes, their color not unlike Juno's. These seemed to be slightly bluer though, with a sort of desperate need to mean something reflected deep within. Only the dragon's head was visible, but it seemed to glitter in the exposed daylight. Lost instantly thought this head was attractive, despite her average sense of logic. She raised her mysterious white eyes and the two dragons held each other's gaze, each looking at another dragon with another destiny.
Then the spiral abruptly turned and fled down a different pathway, his shiny blue tail whisked away like leaves carried by the wind. Lost momentarily had a serious case of déjà vu right then, the encounter eerily similar to that of the other ghost spiral's, though she could quite plainly see they had no connection.
Slowly turning back around, she hurriedly made her way back to her friends, ones she didn't plan on betraying or deceiving for a long time.
---
@AmberHive @mayanaz @Spottedleaf125 @KallyPaige @Skyeset @Moon314@WildRose42 @PrussianWizards @CleverDual @Firedawn @Dragondreamer@Shadow104 @ScaledBookworm @LuminusPrime @DragonMist@Shadowhunter43 @Digimon11 @MythicalMemeLord @GhostBreath @Vyxen@VioletEevee @Verdant @Faolyn @Bluebirdi3 @ThornOfStorm130 @ObsidianMage@Catkidemma @WhoOwlborn @Bitterbluesky @RedFennel
So, I near literally poured my very life essence into this update, but don't worry about me.
I'm still alive.
The spiral with ghost that you met during Lost's mysterious dream moment was Cold from @
Avu42
's pinkerlocke. They might see each other a little more in the future and might have a cross-pinkerlocke ship or something ^w^
weird ship name though
Also, today was a trinket, so please enjoy this beautiful art made by @
ouranjiechan
:
And this gorgeous art of Jade from @
CrAZDragon
:
Also, spearmint ice breakers don't really exist in the dragon world. I just wanted to shape what it might taste like for you guys :)
I LOVE THE CROSSOVER YES
Lost, it's ok. The Shade will not hurt you, I will protect you! *hugs fiercely*
I LOVE THE CROSSOVER YES
Lost, it's ok. The Shade will not hurt you, I will protect you! *hugs fiercely*
@
Aetherstorm
I HAVE BEEN RESURRECTED
THANK YOU
NOW GOODNIGHT IM TIRED
@
Aetherstorm
I HAVE BEEN RESURRECTED
THANK YOU
NOW GOODNIGHT IM TIRED
@
Aetherstorm
the ship of Cold and lost is sweet this is the ship that I like that goes well with each other (support!)
@
Aetherstorm
the ship of Cold and lost is sweet this is the ship that I like that goes well with each other (support!)
@
LuminusPrime
*mysterious laughter*
I SHALL FOOL YOU ALL >:3
(It's so great seeing people love my stuff and having their own opinions on it ^w^)
((Even though you all are oblivious to my plans for the plot XP))
@
LuminusPrime
*mysterious laughter*
I SHALL FOOL YOU ALL >:3
(It's so great seeing people love my stuff and having their own opinions on it ^w^)
((Even though you all are oblivious to my plans for the plot XP))
@
Aetherstorm
ok why do I have a bad/wrong feeling right now? //''^_^''//
@
Aetherstorm
ok why do I have a bad/wrong feeling right now? //''^_^''//