(SO MUCH FOOD!!! I'm hoping to get a familiar so I can buy a dragon to ship with Jade or Poseidon :P
1. Jade
2. Poseidon
3. Zaffer
4. Opal
I rolled 2, 1, and 3, so Poseidon, Jade, and Zaffer will be fighting 40 matches.)
Day 4:
Zaffer and Opal where chasing each other around, giggling like hatchlings did. They were both growing very quickly though, and Zaffer's size nearly matched that of Jade's. Opal was a lot smaller of course, but that allowed her better maneuverability.
Opal quickly fluttered out of the way of Zaffer's swishing talons and nimbly swerved around to land on top of his head. Opal was still bigger than Zaffer's head though, so Zaffer toppled to the ground, weighed down by a glittery nocturne.
"You're too slow, Zaffer."
Opal scolded him, remaining perched atop the imperial's head.
"It's no fun playing tag with a lazy bones."
Jade walked over to them, shooting a disapproving look at Opal.
"Don't call Zaffer lazy bones."
She said.
"You're just smaller than him is all."
Jade glanced at Zaffer, but his eyes were reverted to the ground. At least it looked that way, because it was pretty hard to look at the ground when a nocturne was sitting on your head.
"Oh. Okay."
Opal said, politely stepping off of Zaffer's head.
Zaffer did look pretty sad, Jade realized. His whiskers were drooping slightly and his tail was draped limply across the grass.
"Zaffer, are you okay?"
Jade asked, concerned. Zaffer looked up startled, as if he were surprised someone was talking to him.
"Yeah!"
He said quickly, a fake cheeriness injected into his voice.
Jade made a face at him, then opened her mouth to ask more questions, but Zaffer beat her to it.
"I just, uh. . . need to be alone for a bit."
And with that, the blue imperial slid away, further into the forest, without another word.
Opal made a pouty face after Zaffer.
"Why is Zaffer acting so sad?"
She asked. Jade exhaled and shook her head.
"I have no idea, Opal."
Jade peered after the small bits and pieces of crushed bamboo that Zaffer left in his wake.
"But I'm going to follow him."
Jade whirled around to face Opal, a dead serious look on her face.
"Do not follow me, okay?"
She said pointedly.
"Go find Poseidon and stay with him until I get back."
Opal looked skeptical. Jade smiled mentally.
"You can ask him to build a kite with you."
She said, the ghost of a grin flickering across her face.
Opal jumped at at this piece of news.
"I've always wanted a kite!"
She chirruped.
"I found cool-looking bamboo yesterday. . ."
Jade nudged her in the direction of camp.
"Go, then."
She said. Opal nodded, pleased, and skipped away.
Then Jade turned and bolted after Zaffer, scurrying over the faint trail he left behind. Then a startled yelp rang out somewhere in front of her, and Jade's blood ran cold. She kept moving though, eventually curving around some thick brambles to come into a clearing with a startled iridescent blue imperial in it.
"Zaffer, what's wrong?!"
Jade cried, bracing herself to see something huge and menacing standing before her. Instead, she found zaffer cringing away from a purple bundle of feathers with a beak and piercing deep green eyes standing in front of him. Jade nearly collapsed with relief.
"Just a dark-tufted sparrowmouse."
She breathed.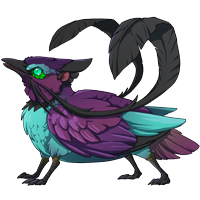 Zaffer looked up from the fidget familiar and glanced up at Jade, apparently startled by her sudden appearance. "Sparrowmice don't hurt you." Jade said, walking forward and holding out a talon to the little feathery creature. It sniffed her claws warily, the pointed ebony beak hovering close by her palm. The dark-tufted sparrowmouse then relaxed and started chirping cheerfully.
"It found you, Zaffer."
Jade reminded him.
"Why don't you try to trust it?"
Zaffer nervously inced forward and held out his talons. He flinched away when the sparrowmouse tried to sniff it, but eventually he settled down, and even smiled when the sparrowmouse ran it's soft, black and purple plumage through his claws.
"That's better." Jade said with a smile as Zaffer laughed when the sparrowmouse poked curiously at his wings. Zaffer opened his wings in return, and the sparrowmouse followed close behind revealing neat arrays of silky turquoise feathers.
"Can we keep him?"
Zaffer asked hopefully. Jade laughed.
"Of course."
She said.
"What are you going to name it?"
Zaffer shrugged, looking at his new pet thoughtfully.
"I'll have to think about it"
He concluded. Jade nodded appreciatively.
"That's a good idea."
She said. A broad smile suddenly spread across Zaffer's face.
"Wait 'till Opal sees I have a pet!"
He he said, laughing. Jade chuckled at the thought as well.
This is the perfect distraction to whatever is bothering him.
Jade thought, smiling down at the little sparrowmouse, which was tilting it's head curiously at Zaffer's laughter.
For now, at least.
---
@
AmberHive
@
FluffyGlacier
@
WhoOwlborn
@
PuellaFortis
@
Moonsong48
@
Spottedleaf125
@
KallyPaige
@
Skyeset
I really hope you liked it guys! Zaffer came really close to dying, but saved himself in the end. There was also a dark-tufted sparrowmouse drop in the coliseum!
Pease let me know any name suggestions you have for him!!!
Yes, it is a him. The dragons will find that out in the next update :P And sorry this one is so much shorter than the others, but it's late where I am, so i didn't have much time to work on it.
Hope you enjoyed!