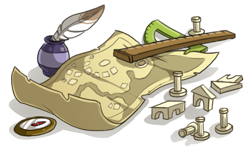 Some say, that '
There is no place like home
'....
While one can only agree to that, some dragons have a deep inner desire to set out and to discover every corner of Sornieth. Exploring, traveling and enjoying their stay with all kind of clans, flights and families they are able to encountered on their way. These dragons are happiest when they can feel the wind under their wings, see the different landscapes unfolding beneath them and taste the variant odors and smells of the world.
One calls them restless wanderers, collectors of stories, explorers of the remotest corners of Sornieth.
Where have they already been to? What kind of stories did they gather?
However, while they may be wanderers they are still loyal to wind. And sooner or later, the wind always will be back. It never leaves for long....
Let's hear, what they can tell about their lives.
Feign
- traveler


Feign was kind of a mystery to the clan. He was found one day by Tiamat and although the hatchlings eye-color indicates him being of the Wind-clan, his kind was never found. In the beginning Feign was really silent and introverted, unsure of what to do with himself. The travelling dragon Blossom then brought him out of his shell and started the healing process of his heart. Feign loved listening to her stories about experiences, travels, the dragons she had encountered and how they had helped her out. Finally his true character reappeared.

Feign has a keen sense of adventure and is naturally curious about life, always seeking the reason of things.

- Story to read in his lore: 'The lifesaver Blossom'
- Haikus
Kierce
- globetrotter
| | |
| --- | --- |
| | Kierce never knew how he ended up on the crossroads as he had hatched just a little while ago. After the crossroads dragons and traveling merchants discussed the situation they thought it best that the young one would join Dalcenti and his group on their travel back to their home. Kierce gets along well with the other members but is neither to attached or detached to them. The Pearlcatcher would often wander in search of his mother or any clues of her whereabouts, but has found nothing usefull 'till today. At some point a fellow clan member, a Nocturne named Loki, began accompanying him on some of his journeys. They formed a sort of semi-friendship. The sweet boy was mostly satisfied with his life, but he kept searching the only memory of his mother being a lullaby he remembers from when was still an egg. |
Loki
- restless wanderer


Traveling was in Loki's blood. Ever since he was a child his wings had been itching to just fly off somewhere and disappear for days. As a hatchling he'd often follow the older adventurers to set off on their journeys only to dragged back to the nest by his mother scolding and telling him that he was much too young.
Luckily though, he eventually grew up and was finally old enough to go adventuring on his own. Constantly returning with spectacular stories to tell all his friends and family in the clan.

On his travels he had met his familiar, a bright-eyed longneck that went by the name Paddy - short for Pádraig. Loki would go everywhere with Paddy and sometimes the rather quiet and detached Kierce would come along with them. He didn't provide much conversations but Loki and Paddy didn't mind as long as he was enjoying himself.
Loki truly was living the life he desired, his childhood passion for adventure never dying out.
Skadi
- the Ice Walker
| | |
| --- | --- |
| | Skadi is a masterful explorer and huntress. Not only was her egg the one always covered with a thick layer of ice, she even hatched on one of the coldest days of winter. The young dragon dreamed of leaving the Windswept Plateau to return and travel the frosted expanse of the Southern Icefield. So, she simply disappeard one day from Clan Àidhear. Only when she returned home much later everyone learned about her adventures. Skadi now lives as a hermit, enjoying the solitude of the mountains, roving the mountains and tundra, hunting and indulging her wanderlust. Still, the Spiral often returnes to her birthclan, bringing back tales of her sharing a camp with lone travelers, guiding them through the icy mountainscape. |
Kryles
- traveler, seeker of the past


Kryles always was an ambitiones traveler, spending most of his time outside of the clan and searching for any adventure he could possibly find. So he visitited all kind of flights and families, made many friends, found love, raised little hatchlings of his own; but could never settle down somewhere, as his heart always was back at his home clan.

One day during his travels the clan's curier Cyphus caught up with him, bringing with him a letter to inform Kryles about the disappearance of his father Vykos.
Being his oldest, he couldn't believe the rumors about his father serving the higher cause in the ranks of the Gladekeeper. Unsure in how to deal with everything so far away from his family, he returned home.
There his fathers familiar Cole came rushing towards me, telling him that even the well kept traveler-journal wasn't anywhere to be found. It was then, Kryles decided to go looking into his fathers past, collecting parts of the lost Journal, tracking the past at all kind of lairs and clans...

Maybe he came to your place too?

- Story to read in his lore:
'Kryles' Journal - My life as traveler'
'Memories of a traveler' - are interested to add to his story? please come over ;3
Haikus
Krashos
- traveler, fighter, former leader of the 'Treasure Hunters'


Krashos is a haughty, independent creature who considers himself somehow apart from the rest of the clan. He is quite the rebel and likes to stir up commotions wherever he can. He has a love for gossip, choice tidbits and collecting secrets of other dragons. Using the obtained information to his advantage, Krashos is always able to cause trouble. At times it really seems as if the Pearlcatcher lives off of the frustration of others.

After stiring up quite the commotion back home, he decided to take the advice and took a brief journey outside the clan; appointing his best friend and first follower Mishka as the new leader of the team. Then he set out to travel the world, keeping with him a Traveler Log to record every adventure on his way.

- Story to read in his lore: 'The conflict'
- 'My travel log' - with all the entries from the Clans he met during his travels
Nestor
- traveler dragon and explorer
| | |
| --- | --- |
| | Born and raised near the Twisting Crescendo Nestor had a carefree childhood, spending many hours inside the clan's library. Since forever he'd loved to read stories and tales about dragon history, adventures and any kind of book he could get his hands on. At a certain point he left the dusty collection of books behind to travel Sornieth to gather stories for his very own storybook. Nestor set off to his voyage, soughting out Clans all over Sornieth and whenever he was able to find shelter with them, he carefully listened to their tales. Tales he'd carefully write down in his journal. |
~~~~~~~~~~~~~~~~~~~~~~~~~~~~~~~~~~~
Vykos
- traveler


Vykos had spent his entire life in Clan Àidhear.
He was father of four; but raised three children. The youngest of the nest was lost in big storm a long time ago. Vykos could never forget the little one without a name and never had an other nest of his own again. His only hope was, that the young dragon would find another family, or serve the higher cause in the ranks of the Windsinger. Vykos himself loved and respected the Noodlepapa - seeing a kindred soul in him.

He was an energetic, charismatic dragon with an almost magnetic aura. Vykos's excellent at making friends. The green traveler had a kind and loyal character who is heavily devoted to the happiness of his friends and family.
He didn't give up easily and could be somewhat possessive over a task he felt the need to devote himself entirely to.

Oh, and he loved music and could spent hours and hours listening to it.
Vykos was the one keeping the clan in order: managing, administrate everything so nothing would descend into total chaos...

One day, he couldn't stand to keep idling in his comfortable home. He wanted to see, learn, collect everything what there could be out in the world. Curious about what he was going to experience and what kind of dragons he would be able to meet during his travels, he set out.
His well, neatly kept traveler-journal always by his site, to be able to put down in writing everything he came across during his 'voyage'.
If you'd like to read this traveler's journal, his son
Kryles
is currently looking for it! Collecting the entries from all over the world...
So, if you are interested to add something to their story, please have a look
here
!
Thank you ;3
~ The Humming Chimes Inn ~
The Humming Chimes is a big restplace for every traveler that comes by Clan Àidhear. It was built by the current owner Keao, who runs the inn with the help of his son in the service and his cheef, the elder named Kaida.
The place is stocked with a wide variety of potables and dishes typically for each flight in Sornieth, so one staying at the inn would be able to enjoy a litte bit of 'home'. Kaida is always eager to learn and extend her knowledge, willing to listen to special wishes of visitors... and the first outcomes of these attempts are almost always edible.
The inn has a very large main room called the
Whispering Hall
, which is filled with tables and laying space in every size, being the main section to reach the caves for the inn's occupants. When one enters the hall eye and ear are immediately drawn to something over ones head. High up the ceiling, and along some of the walls too, a half hundred or more Wind Chimes hang from chains, tinkling endlessly to the everblowing wind. They are of various sizes, made by the hands of many hatchlings, youth and sometimes even adults of the clan. They aren't like those made by the hands of the clans Wind Chime Maker
Tharkay
, who only creates and works his magic on the
Birth Chimes
; the works hanging in this hall are all made by amateur artist, wounderful pieces with big effort behind every tune. A visitor is able to purchase a Wind Chime that hangs there as a memento of its stay with this clan, taking along the sound of the calm and steady Windswept Plateau.
The Inn is made up of all kind of open caves, tunnels and burrows of all sizes and these elaborated, many-tiered structures consists of a mish-mash of architectural design with some specialized caves for certain breeds.
For the polite Coatls the Inn prepaired some heated rooms that are inspired by the breeds home, the Ashafall Waste. Not far, at the side of a sheer cliff one can spot some roosts made out of tree sap, weaved to the wall so every Fae staying over has a place to relax. The secure loving Nocturnes are able to find a safe haven in caves created in a hidden structure, constructed to camouflage with its surroundings. In a subterranean development some caves are carved from sandstone, made by and for Ridgebacks to stay in. To make sure that the Spirals checking in wouldn't undermine the strenght of the Inn with their delicate tunnels, pre-made labyrinths just wide enough to squeeze their ropelike bodies into are prepaired for them.
As Imperials and Pearlcatchers have a mutual disdain of their cousin species, the Inn tries to keep a sufficient distance between the two breeds resting places to avoid possible conflicts.
But every dragons that checks in can freely choose the shape and function of their guest room to comply with every dragon own preferences.
Keao
- Innkeeper
| | |
| --- | --- |
| | Keao is decidedly amicable and cheerful, even to the point of being considered annoying by his closest acquaintances. He nearly always appears randomly, jovially butting in while something important is being discussed, and is rather well-known for leaving his duties just just to have a little chat with friends. The Skydancer is also a rather forcefully hospitable person, never taking "no" for an answer when offering a night's stay in his inn and simply loves to take care of all the travelers staying at his place. |
Tien
- Service
| | |
| --- | --- |
| | xxxxxxx |
Kaida
- Chef
| | |
| --- | --- |
| | xxxxxxx |
Soon after joining the family, the Imperial lady
Eione
decided to open and operate the
Baths
, near the Inn. Travelers and members of the clan alike can relax in a comforting atmosphere, taking the waters in different temperatures. When one gets tired the dragon can return to the Whispering Hall for a nice gathering.
Eione guards her domain very carefully so every dragon entering would be able to have time to relax to the fullest.
Eione
- Operator of the baths
| | |
| --- | --- |
| | As a secretive and quite cunning dragon, Eione loves to collect secrets. Albeit her nature origine, she'd always been fascinated by the element water. Eione guards her domain very carefully so every dragon entering would be able to have time to relax to the fullest. At the same time, she skillfully gathers her information about all kind of matters and has some good insight and character judgement skills. Irritable at times, she doesn't like to be lied to and doesn't tolerate false courtesy. |
---
---