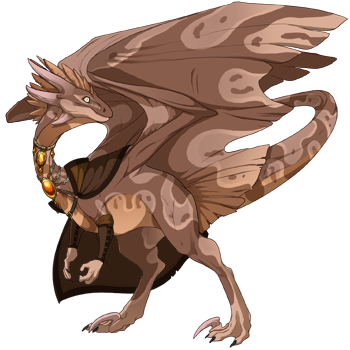 It seems as if there is something––someone––standing there in the ruddy glow of the lanterns. You blink, once, twice, the rich scent of sandalwood incense and candle smoke making your head spin. Ah, there he is: a crystalline form, draped in jewelry and trailing smoke and petals. He smiles at you, and you reach out to grasp his claw in greeting, but your hand passes through with nothing but a tingling warmth.

"Ah, greetings. I suppose you haven't met me yet, and you must be wondering about me. I'm a ghost, and my form is ethereal––long ago, I was cursed, and the very particles of my body began to dissolve into the air. We've stopped that now, somewhat, but I'm not very much here. That's why it's dim, you know. In the light, I'm a master of disguise, even when I don't want to be.

"But that's not what you're here for, no? You're here to see our disciples. Very well, then. Welcome to the Cornucopia. In the center of this temple structure is the Vernal Heart, an immensely powerful and unstable talisman that has the power to spontaneously create various objects. Although we of the temple are constantly studying the powers of the Heart, we have deduced that what–or who–it produces is dependent on adult dragons and the emotions they feel around it. Compatible pairings of adults can reliably induce the Heart to create original beings, which are the disciples that you will be meeting later.


"All of the creations of the Vernal Heart are trained here, becoming some of Sornieth's most learned courtiers, performers, and scholars. From youth they sharpen their skills and study a wide variety of humanities and sciences. Most are fantastic conversationalists, but we do have the odd quiet one––all have their merits, of course. I'm sure you'll find someone fitting for your clan."


rules wrote:
- This is still in progress. I have a bunch more pairings planned but I have to breed them out first! If you're interested in seeing what I have planned next, just ask.
- G:T ratio currently 1:850
- After purchase, your dragon is your dragon! Do what you like with them :)
- I will be naming hatchlings beforehand, so please ask if you want a renaming scroll.
- All hatchlings may come with a short lore starter for free; ask if you'd like one.
- 10% discount for Light Flight!