EDIT 5/28/2019:
Hi, I'm back! I won't be taking commissions for a little while, though. I need to get my bearings and back into the groove again in private. I'll get back to y'all eventually!

EDIT 5/11/2019:
Hello! It's me again. Tomorrow afternoon I'll be packing up my computer, and that means I won't have access to my drawing tablet and Flight Rising. Why is this happening? I am moving out of state to.. well, another state! Hopefully it'll all go smoothly. Thank you everyone for your time!
We are back, again!! I'm feeling more confident in my art and I'm willing to draw for other people now! Now that that side note is out of the way, let's get this show on the road!!
Hello, hello. If it seems like I don't respond to other people in
the thread, I just directly dm them for more details. I do suggest you ask for a commission -in- the thread because it bumps it!


Also, if I DO happen to owe you art and I'm taking too long, I either have art block, I'm trying to get things done, or my puppy is doing something she shouldn't..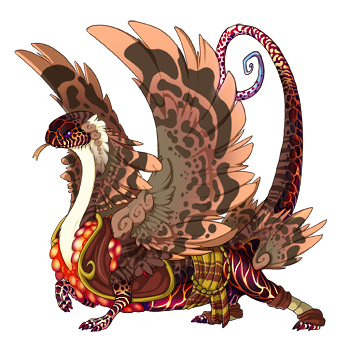 You look upon the little shop with curiosity, inspecting every fine detail. The stall has a sign on it that would either say "open" or "closed". In the back on the wall there's a few sketches and drawings that catch your eye. Suddenly, a coatl pops up from behind the counter, flashing you a smile and a blep! She rests an arm against the table and gazes at you.
"Hello! My name is Peach, and I'm the artist in the Xherganas clan! We are running a little low on currency and the lair is getting a little cramped.. So, I have decided to draw for other dragons in Sornieth, but for a price! You may give treasure, or gems. Or.. if you feel -really- generous and want to bribe me, you may give me gene scrolls, dragon breed changes, an assortment of apparel that I may find to be worth the price, or very rare items! Now.. what would you like today, weary traveler? Unless you're here to visit, that's fine!"
The coatl eagerly waits for an answer or action from you.
Wishlist dragon if you want to bribe me!
These are some examples I drew out!
Prices
Headshot sketch: 150kt / 850g
Flatcolor headshot: 200kt / 1kg
Headshot with shading: 350kt / 2kg
Bust (busts will include some of the chest area and arms!) sketch: 400kt / 2.3kg
Flatcolor bust: 450kt / 2.5kg
Bust with shading: 550kt / 3kg
Fullbody sketch: 600kt / 3.4kg
Fullbody flatcolor: 650kt / 3.7kg
Fullbody with shading: 750kt / 4.3kg
Apparel/detail fee, depending on how complex your dragon is: 170kt-800kt/ 950g-4.5kg
Having TWO dragons in the same drawing will cost double (600kt + 600kt = 1.2mt!)!
Slots for today
1.
2.
3.
4.
5.
Message me for more details.


I will try to keep you posted once you send me half the payment! I may ask questions for more brief details on your character.
Order Form
1. Do you want me to draw the dragon(s) with the skin/accent/apparel?
2. If you do want me to draw him/her/them with the skin/accent/apparel, that'll cost a fee depending on how complex it is!
3. What is/are your dragon(s) like (personality)?
4. Is there any specific pose you want him/her/them to be in?
5. Do you want the drawing to be transparent or have something in the background (not a LEGIT background)?
6. Is there anything important I should know before I get started?
If you happen to have Discord, we can keep each other up to date WAY easier! Here's mine! (Yet to be added)