While wandering from stall to stall, you catch sight of a sleepy koi-like Tundra with a paintbrush in her mouth. A hummingbird flits about her head excitedly and sights you. It flies towards you and attempts to drag you over. Not wanting to hurt its feelings, you walk over with it. As you get closer the tundra blinks, and suddenly notices your presence.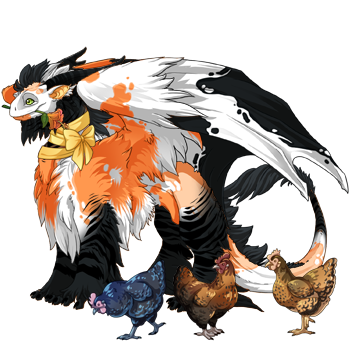 "Oh, OH! CUSTOMERS!" She yawns, her fur rising and bristling as the paintbrush flops out of her mouth, and she slides a piece of parchment across the table.
Parchment wrote:
Hello, welcome to ShinyShinx's PotARTos! We specialize in art of Dragons, Pokemon, Birds and Mammals. We cannot do art of plants or humans, I'm afraid. We hope this doesn't deter you.

Conversion rate is 850t-1g. Please send payment upfront, but the payment will not be accepted until the art is complete.

Please ask me about other items!
Examples wrote:
HEADSHOTS
FULLBODIES
ADOPTS - BLEPPERS
Little gifs of your dragons, bopping up and down and sticking out their tongues.
Unless they're Ridgebacks.
Then they just make a cute face.