hello all!
this pixel shop is open once again in the interest of being able to
pay my rent
, and as such i will only be taking
paypal
for these commissions!
each commission slot costs
$5 USD
and you are welcome to purchase
as many slots as you want.
i am willing to negotiate a discount for purchasing multiple slots!
Quote:
i have 10 slots open and will be doing/ delivering coms in the order i receive them. once you claim a slot(s) i will begin you commission, and message you on paypal details immediately upon completion. once i've received the payment i will send you your art! if you are worried about legitimacy i will put together a "preview" version of your art for you to see before payment.
please note:
i will draw anything that isn't NSFW or excessive gore
i have the most experience drawing animals and similar critters
i reserve the right to negotiate prices based on excessive details or difficulty (all correspondence will take place privately over messages)
are you interested in a private commission? message me for details!
---
examples: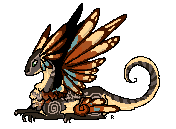 ---
slots:
1.
2.
3.
4.
5.
6.
7.
8.
9.
10.
---
if you're interested, please fill out the following form!
Code:
[b]name:[/b] [b]reference:[/b] [b]pixel size (100x100 or 200x200):[/b] [b]animated?:[/b] [b]anything else?:[/b]
thank you for stopping by!