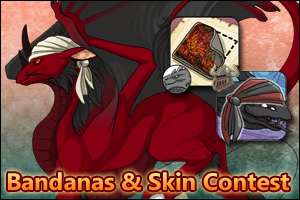 New Apparel - Bandanas
The treasure
marketplace
has just received a new shipment of apparel. A selection of colorful bandanas are now in stock.
Click here to read more about today's updates.
New Skins
The
open call
for skins was an such a success that we couldn't narrow it down to just a handful, so we'll be rolling the skins out in waves. The following skins are stocking in the
gem market
now. Thank you to everyone who entered! Your submissions were amazing.




Starfall Celebration Skin Contest:
In celebration of the upcoming Starfall Celebration, we're running an
Arcane-themed skin-design contest
with some pretty cool prizes for skin artists.

Skin Retirement
The following skins will be retired and leave the marketplace forever on October 23rd: Red Plaid, Glitter Vomit, Maroon Swirl, Dem Bones, Royal Green Butterfly, Red Gecko, Blue Girdled Angelfish, and Indigo Scale.