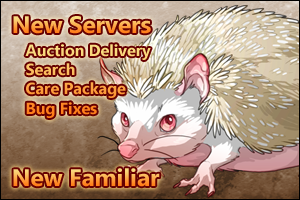 Flight Rising
has migrated to its new home on our new server hardware. We're incredibly excited to have everyone back and playing again! Speedy the Albino Hedgehog is unique to this downtime, so be sure to hang onto him tightly - but mind the spines!
There is a chance it may be a bumpy ride while the new servers get to know you guys, but things should be leveling off soon!
Changes of note:
Expired Auctions will return items to your hoard rather than mailing them to you. You will still receive a mail message to alert you of the expiration, but it should be much easier to clean up your inbox!
The search function is back!
Broken dragon images have been corrected; If you would like to refresh your dragon's image, click the red arrow next to their name in lair view. Additionally, you can try equipping/unequipping skins or apparel to refresh the image.
Scroll of Eternal Youth has been repaired.
Button styles have been updated on many windows throughout the site. Some places do not have the new button style; this is an ongoing update.
17 new puzzle images are available in Jigsaw.
Glad to have you all back!
-The Flight Rising Team
Flight Rising Developer
Project Management
|
Engineering Team Cheerleader
|
UI Designer