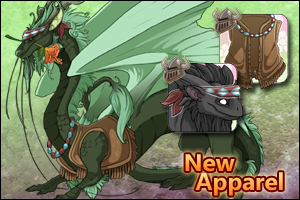 Peacekeeping Vest & Headband:
Peacekeeping Apparel is now stocking in the treasure marketplace. This groovy set was generously Kickstarter-Sponsored by
DragonMistress.
Moderation Team Additions:
There's a new pair of blue wings flying in the forums. A big welcome to our new moderator, @
Khamaseen
!
Additional Updates:
A block feature is now available. If there are players you do not particularly get along with, blocking them will remove their posts and interactions from your view.
The Shock Switch Beta continues. The game is now awarding treasure. Please note that while in beta, the treasure payouts are not final and will probably be adjusted as we gather more data. If you encounter any bugs or errors in SS Beta, please let us know in the bug reports forum!
Additional subforums have been added. Dragon Share, Dragons Wanted, Dragon Treading, and Art Sales are now available to use.
A new forum Code of Conduct has been posted. Please take a moment to familiarize yourself with the new rules.
There is a post on good channels to go through if you'd like to get on contact with us about an issue so that we can help you as quickly and efficiently as possible.
Known Issues
Runestones of the Arcanist has an error where it will cease to advance to the next level.
Achievements have been disabled for the time being to help address site performance issues. We will be enabling them again at a future date.
Coliseum dragons are not properly updating their images. (It is still fine to fight with dragons, even if their images are incorrect. )