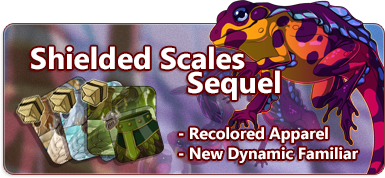 Additional
battle gear
is beginning to become available as more and more dragons join their fire brethren in an ongoing uprising, and you can befriend a new
tricky, transforming tadpole
.
---
More Variations of Scale Armor
Several new scale armor set variations have found their way into the
Treasure Marketplace
:
Viridian Scales

Hoary Scales
Due to its superior craftsmanship, the following set can be found in the
Gem Marketplace
:

Heraldic Scales
Enterprising alchemists can mimic the scale armor's design by transmuting the following set at
Baldwin's Bubbling Brew
:







Aeruginous Scales
Dragon clans that come in possession of
Gilded Decorative Chests
might find pieces of this scale armor set smuggled inside them:

Umbral Scales
New Familiar: Regenerating Reedjumper
Enterprising familiar collectors will have their hands full with the Regenerating Reedjumper, a new addition to the
Gem Marketplace
. Every time you check on this familiar, it'll be different!
Thundercrack Carnivale Reminders

The deadline for the Thundercrack Carnivale Skin Contest is Tuesday, July 17th at 23:59 server time. If you are participating in the contest, please make sure you read our submission thread and get your submission posted in time to be considered!
The Thundercrack Carnivale begins at 06:00 server time on Sunday, July 22nd, rather than at 00:00.
In the five-and-a-half hour window (00:30 to 06:00) between rollover and the festival start time, if you attempt to gather items, you will be notified with a pop-up window that a festival is starting soon. You will need to acknowledge this window before proceeding to gather items again.
Flight Rising Developer
Project Management
|
Engineering Team Cheerleader
|
UI Designer