New markings and heartfelt event items are made available in
today's update
!
Ghost
The newest tertiary gene, Ghost, applies a pattern of skeletal markings across the body and wings of your dragon. Ghost has a chance to stock in the
treasure marketplace
!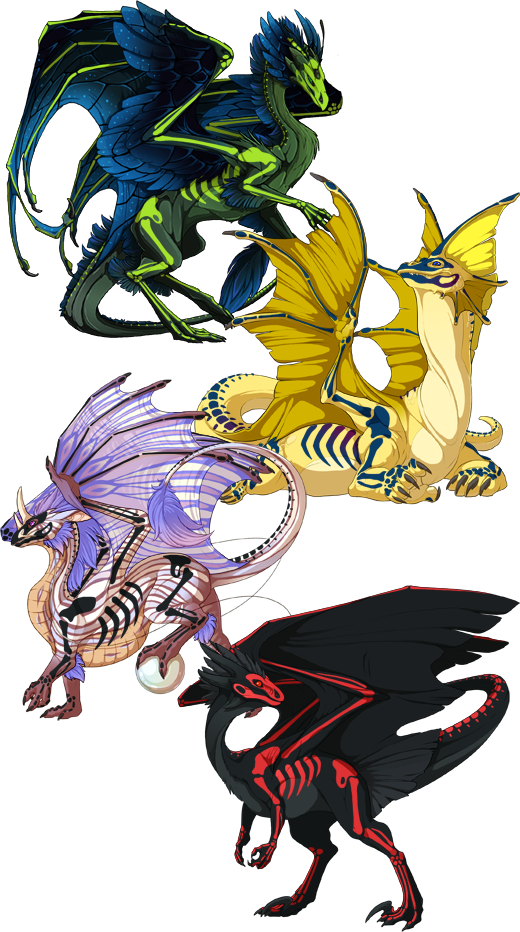 Love is in the Air
From now until February 19th at 22:00, the following seasonal items will be available, after which time they will cycle out until love is in the air once more~
Sweetheart Swan
is available through
Swipp's Swap Stand
for 25 sparrow skulls and 20 Carpenter Wax. (don't worry, we've added this trade to swipp's pool multiple times over. So much so that you may get a bit tired of seeing swans this week!)
= 25

+ 20
Enamored Swan
is available through
Baldwin's Bubbling Brew
for a limited time. Alchemists level 3 and above can bring this beautiful bird to life!
=
+
+
+

Lovely Seraph Jewelry
Item Caption Contest Results
The results from our sixth
Item Caption Contest
are in! As always, we are constantly delighted by the creativity and wit of our players. Congratulations to @
Adventure
, @
AlligatorFeet
, @
boxxx
, @
CountingChocobos
, @
CrazyRedFire
, @
Geliril
, @
Persiflage
, @
Phoenix447
, @
StarryPossum
, @
Vely
, @
Windows8
, @
yoshino
, our winning entries.
These new items can be
gathered
by clans with a skill of 34 or greater in hunting, fishing, foraging, or insect catching:


Trickmurk Circus Skin & Accent Contest
The fifth annual Trickmurk Circus will begin February 25, 2018, and we're running a skin and accent contest in celebration!
Click here for more information!
Please note the deadline is this upcoming Thursday.