Account Security
Item Caption Contest
Bow Apparel Poll
Fan Art Friday
Festival Recap 2017 - 2018

Starfall Celebration
Riot of Rot
Rockbreaker's Ceremony
Click here to read more!
---
Account Security
In this section we're going to be covering some of the basics of securing your personal information online. For those of you who've been around the internet a time or two, this is likely old news to you.
The Basics
The
Terms of Use
states that players are responsible for the security of their accounts. What does this mean exactly?
To start, it means
don't share your account or your log-in credentials.
Not sharing your account information includes always making sure you sign in and out on our
front page
on public and shared computers. If you share a device with someone, you should make sure you are logging out
completely
and your password is
not
saved in your browser.
As an additional note, it is generally a bad idea to email someone your password, including any website's support.
If a site's support team needs to verify ownership or otherwise assist with account issues, they will not require your password.
Flight Rising Support will never ask for or need your password.
Some other basics of maintaining (any) account security include:
Selecting a unique username.
This means your username should not contain:
Your first name
Your last name
A combination of your first and last name
Your date of birth
Your email address
When a username (for any website) contains this information, it makes it trivial (easy) for someone with malicious intentions to access it. Usernames with Personal Identifying Information also directly discloses information about who you are and where you might be located offline.
For this reason, if the
Flight Rising
Support team comes across an account with a username that discloses any of the above, a name change will be initiated.
If this happens to you, we're not likely to penalize your account, barring repeated violations or the disclosure of someone else's information.
The goal is to protect your information and our overall community, not close accounts.
Exercise discretion
We don't want to prevent our community from meeting new people, finding shared interests, and generally enjoying being a part of the
Flight Rising
community; however, we must always keep in mind how easy it is to misrepresent yourself online.
Not everyone is who they present themselves to be.
Whenever you're interacting with someone online, including here on the
Flight Rising
website, you should exercise discretion. It doesn't matter what website you're on or how old you are, always take care when sharing your information, including off-site chats, Kik, etc.
If someone should give you reason to believe they are misrepresenting themselves or they led you to believe they are older/younger than they actually are
and this behavior has occurred on the Flight Rising website
, please don't hesitate to send the
Flight Rising
Support team a message through
Contact Us.
We likely won't be able to provide you with a follow-up or personalized response but your report
will
be documented and investigated.
Why only if it happens on the Flight Rising website?
This is because we need to be able to independently verify any evidence provided. We are not able to independently verify logs or data on other websites. You will need to file reports with that website's support team.
---
Writers
, if you've ever wanted your blurb to grace an item tooltip, your time has come! Dust off that keyboard and look upon these poor blurb-less items and consider the possibilities! What's this item's story?
The premise of
this contest
it to take these icons and create a unique caption for their tooltip. The caption must be under 160 characters. If desired, players may rename the item in question along with their caption. Captions can provide facts, short anecdotes, or jokes.
Premise:
Write a tooltip for any of the items provided in this contest.
Deadline:
Monday, January 1, 23:59 server time
Length:
Less than 160 characters (caption). Less than 30 characters in name if renamed.
Prizes:
Winners will be credited in the tooltip of the item, will receive a copy of the item they wrote for, a writer vista applied to their account + 1000 gems
Click here to submit an entry!
---
Bow Apparel Revamp & Expansion
In our efforts to update and improve the consistency of our artwork, we will be revamping the bow apparel. Bow apparel is one of our oldest sets, and contains several ill-fitting bows, and thick black lines.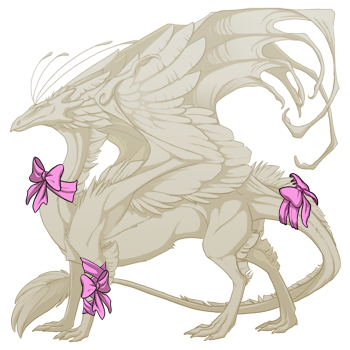 We would like to revamp and expand the apparel to include even more bow placements, such as leg, head, and wings. Our talented artists have come up with two directions the apparel can go in. One involves thick ribbons that are able to wrap around the dragon a couple of times. This look is closer in execution to the existing bow designs: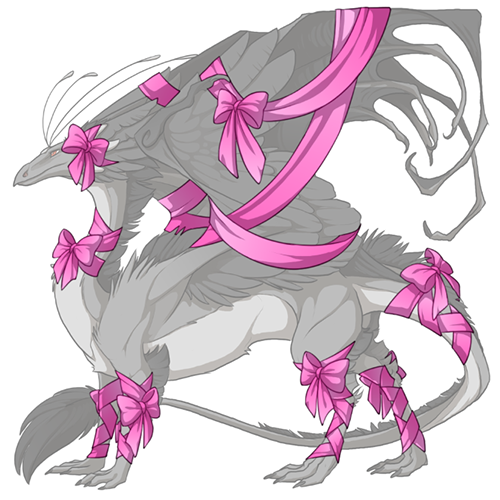 The other uses a thinner width of ribbon that is wrapped around the dragon more times. This look is more of a departure from existing bow designs.: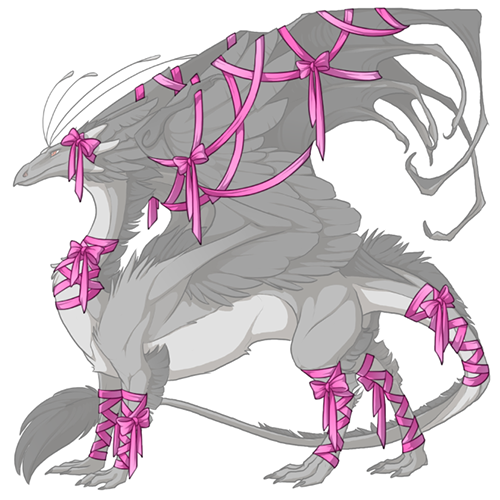 The choice is up to you. Please vote once for the choice you would like most to see. You have until January 1, 2018 to cast your vote. After that time, we will begin work on the apparel using your vote as the direction we go in. Please note that it will be some time after the conclusion of the vote for the apparel to be released, as it will need to be drawn for all the dragon species (except skydancer males, who are already complete!)
---
Fan Art Fridays
For our social media communities, we've introduced Fan Art Friday on
Twitter
and Tumblr! Based on community participation and interest, we will be expanding to other platforms in the near future!
How to Participate
Include the #FRFanArt tag when you post your art.
Using this hashtag communicates to us that it is okay to share/retweet/or possibly spotlight your work! When we're getting ready for our next Community Update, you'll be contacted by a
Flight Rising
team member, usually as a reply to the art post we'd like to spotlight.
While we may not be able to share all posted fan art,
using #FRFanArt is also a way to show off your fan art to new people and fellow players when they browse the tag.
Why Social Media?
There are many of our players who don't visit the forums, just waiting to be engaged. We're starting small with twitter and slowly branching out as we go. In addition, we highly recommend checking out the many beautiful pieces of art made by our community on the
Flight Rising Deviantart Group
.
Fan Art Friday Spotlight!
Click on the preview to see the full image!
---
Flight Festival Recap 2017 - 2018
For those new to
Flight Rising
, back when we first opened the community created the tradition of celebrating a Flight's holiday by putting on a site-wide organized event. These events are characterized by a "hub" posted in the
Flight Rising Discussion forum
. Here players share and celebrate their Flight with their fellow players and provide a digest of links and mini-events happening around the site.
Our
October Community Update
covered the 2017-2018
Brightshine Jubilee
through
Flameforger's Festival
. Today we'll cover the 2017-2018
Starfall Celebration, Riot of Rot, Rockbreaker's Ceremony!
Given the depth and breadth of the events, it's not always possible to recap every mini-event held. Please take the time to check out each hub to see everything Arcane, Plague, and Earth had to offer their fellow players this year!
[Starfall][STARFALL] Constellation Connection



If you participated in last week's Astronomy Club, you might find three familiar faces in this event! Those same three astronomers have finished their star charts. Now it's time to create some new constellations from them!



[SF] Star Stories: Starfall Lore 2017



This year, Arcane has reached a consensus. We will not be ending the world! Check out this groundbreaking (NOTE: we are not planning on breaking anything!) new take on Starfall Celebration and read the stories Arcane has put together for all of Sornieth - the stories of stars!



Starry-Telling Ball & Raffle



Starry Tales are stories about the stars over Sornieth. Look up at your favorite constellation, or create a new one, and write a starry story. It can be a scary camp fire tale, a parable you've told your hatchlings, a tale of sea navigation, or whatever your celestial muse brings to mind! If writing isn't your thing, but you'd like a chance to win dragons & apparel sets, head on over to buy tickets!



Explore the Scarred Wasteland



The Plaguelands are filled with treasure and adventure, now all it needs is someone to explore it! Pick a spot on the map to send your intrepid dragon and discover a prize! Roleplaying is highly encouraged.



Tales from the Wyrmwound



The thing that goes bump in the night. The shadow that flickers with no candle. The mystery that lingers on in memory or perhaps reality. What tales have you heard that chill your spine, that tingle your scalp, that raise the hair on the back of your neck? Share with us what stories you whisper around the campfire, too terrible to be spoken aloud.



Send a Sneezy-Gram!



Send some love with a sneeze to any user with the Riot of Rot's own Sneezy-Gram delivery service! Choose from a number of bottled inoculations to send to your friends and loved ones to protect them from the sickly bugs that run rampant this time of year.



Storybook



The story of how it all went.



Tar Pit Game



As you stumble through the caves of Dragonhome in search for "Rocky" you find a Tundra sitting in front of a black lake of tar, trying to get the black goo out of her fur that oddly resembles Earthshaker's beard for some reason.




Rolling Rock



Try to catch the rock!



---
Happy
Night of the Nocturne
and happy holidays!