Segmented limbs and a shiny carapace - the dragons and familiars in
today's update
deliver both!
Wasp
A companion gene to Bee, Wasp is a primary gene that applies a shiny, segmented carapace across the body of your dragon. A delicate webbed belly that matches the patterning on Bee is visible on the underbelly of your dragon. Wasp is available now in the
gem marketplace
!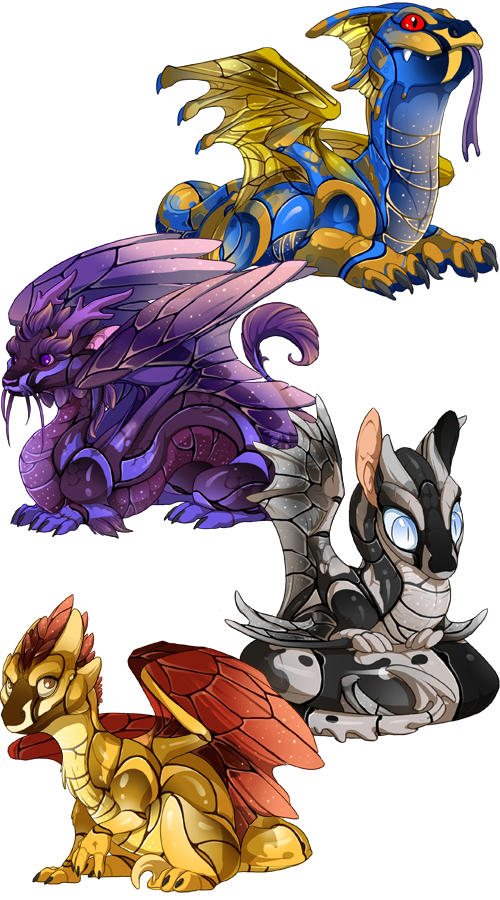 Redrock Cove Encyclopedia Entry:
Redrock Cove
now has an encyclopedia entry that identifies the current opponents local to the venue and the rewards that their defeat may bring! This article is a part of our
coliseum venues
series of articles, which will continue to be expanded upon.

Skins & Accents
Frequent visitors to the Redrock Cove have learned to camouflage themselves to better confuse their opponents. New skins and accents are now dropping. Special thanks to @
casuallySleepy
@
Endivinity
@
ENOCHI
@
Kazoru
@
Moichao10
@
naomiwankenobi
@
Piney
@
Ravenmoon
@
Shandian
@
Skelizard
@
Stormdragon
@
Tidemaiden
@
Velg
Peacock Spider Familiars
Veteran alchemists have made a new discovery at
Baldwin's Brew
! Those with a level 18 skill or higher may now craft these wiggly new friends.
Rockbreaker's Ceremony Skin & Accent Contest
The fifth annual Rockbreaker's Ceremony will begin November 26, 2017. To celebrate we are running a skin and accent contest honoring the earth flight.
Click here for more information!

Additional Updates:
The cap for Baldwin's Brew has been raised to 24.
Waterway Crates have had their drop chances upped a bit to better match those of other venues.
Dragon Share Lore Theme Week: The Friend.
With the release of Firefox Quantum, we are looking for feedback and/or bug reports from players who use Firefox as their preferred browser here.