The dragon clans have been busy as bees and it's bee-ginning to show. Will your clan bee among those bee-decked with this new gene?
Click here to read more about today's update!
Bee: A New Secondary Gene
Diaphanous wing membranes have begun appearing among the dragon clans. Bee is a new secondary gene that makes your dragon's wings appear segmented and translucent. Bee is available now in the
gem marketplace
!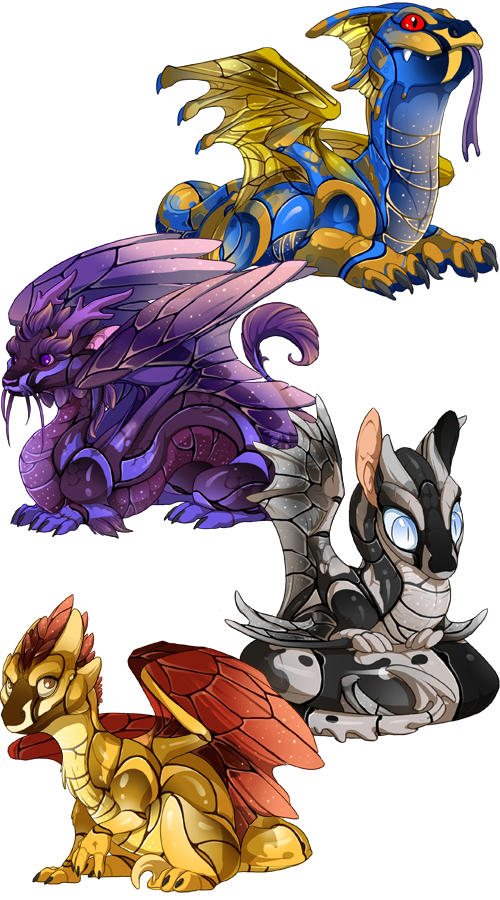 In the above preview, the secondary (wing) gene, Bee, is shown alongside its partner, the primary gene, Wasp. Wasp is not currently available, but will be releasing in November.
Riot of Rot 2017 Skin & Accent Contest
The fifth annual Riot of Rot will begin October 22, 2017. To celebrate we are running a skin and accent contest honoring the plague flight.
Click here for more information!

New Items to Pick and Catch!
Skilled
Foragers and Insect Catchers
levels 33 and above now have a chance to harvest the following items when they gather for their clans:

Joxar's Spare Inventory:
With the
Riot of Rot
at the end of October,
Joxar's Spare Inventory
will be receiving new stock in the form of 2 additional color variants of old festival apparel.
The nitty gritty:
These 2 color variant apparel items will be included in the color variant Spare Inventory Crate pool, and will also be purchasable with Prismatic Tokens alongside the other color variant items.

In addition, the Brightshine, Thundercrack, Flameforger, and Starfall skins, apparel, and familiars from 2017 will be randomized into the pool of past festival items and bonus skins. (note: This affects your chance of getting a specific retired item or a specific bonus skin. It does not alter your chances of receiving a color variant nymph or festival apparel.)

Crates opened before the Riot of Rot will not have these 2017 items present nor the two additional recolors, but crates opened after will.