The 5th season of elemental holidays is on its way, and we have many exciting updates to share!
Click here to read more about today's update!
Festive Favors Expansion
As we begin our 5th year it brings a new season of elemental holidays! As we announced
previously last year
, we will be introducing a new feature to the holidays called
Joxar's Spare Inventory.
Since our announcement, our tentative plans have solidified, thanks in a large part to your feedback! Let's go over the changes, and what you can expect from
Festive Favors!
Festive Favors will continue to be open for one week each during each elemental holiday. There are two sections in the shop.
The Elemental Festival Shop
, and
Joxar's Spare Inventory
.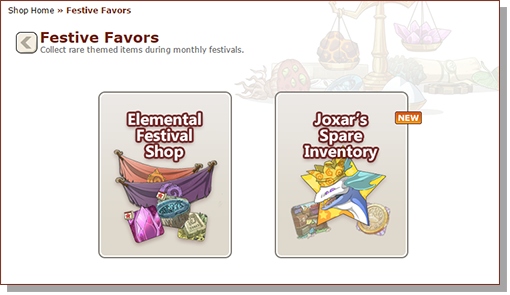 The
Elemental Festival Shop
will be familiar to our veteran players. It will feature the elemental emblem, as well as 3 new holiday items each festival. These items are purchasable with an elemental holiday currency, obtainable by gathering, battling, and brewing during each flight's respective holiday.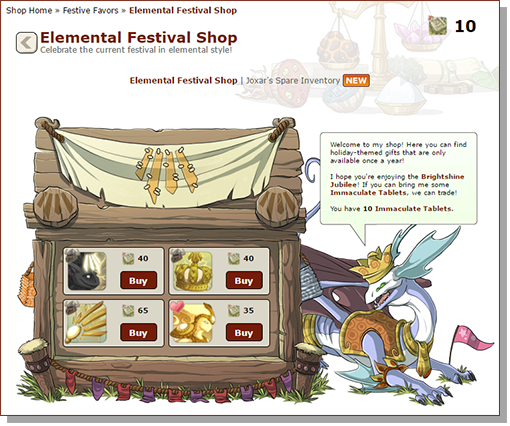 Joxar's Spare Inventory
allows each player to purchase
one
Spare Inventory Crate
each holiday. Players may also spend Prismatic Tokens to purchase unique color variant items ala carte!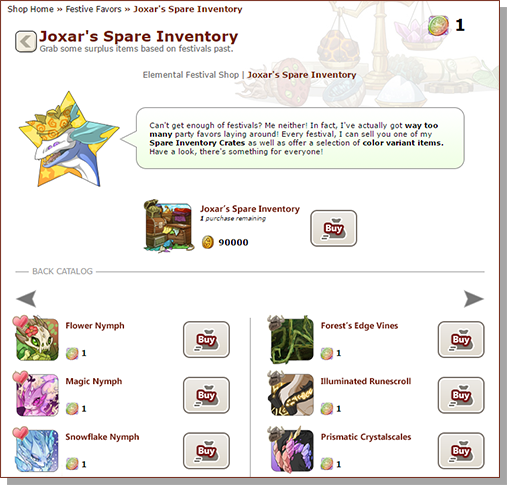 Spare Inventory Crates
1
Spare Inventory Crate
may be purchased each holiday for 80,000 treasure. Spare Inventory Crates will open to reveal 2-3 items:
1 color variant or past holiday item. (guaranteed)
1 Prismatic Token (guaranteed)
1 chance at a past holiday skin from the 2016-2017 season. (bonus chance, not in every chest!)
Prismatic Tokens
We wanted to keep the crates fresh and engaging for returning players who may already own all the holiday items, while still offering players a controlled chance at past holiday items from the 2016-2017 holiday season and beyond. To facilitate this, crates may drop past holiday items OR unique color variants of past holiday items! Because some players will have the former via holidays, but there's no other way to gain the color variants, we wanted to introduce a more reliable way for players to be able to collect the color variant items.
1
Prismatic Token
will drop from each and every spare inventory crate. This item may be used in Joxar's Spare Inventory to pick and choose color variant items. Yes, this means that every Spare Inventory Crate will give you one item, and a token that can be exchanged for a second item! Joxar's Spare Inventory shop will only ever offer color variants in exchange for prismatic tokens. If you want a past holiday item, you will need to purchase them from other players, or hope that the dice roll in your favor when opening the chests!
Color Variant Items
Below you will find the unique color variant items that have a chance to be obtained from
Spare Inventory Crates
, or may be purchased with
Prismatic Tokens
from
Joxar's Spare Inventory Shop
.
Past Holiday Items in Spare Inventory Crates
The following are the applicable past holiday items that have a chance to drop from Spare Inventory crates.