Aquatic trades, gathering unlocks, woodland path skins, and artwork updates are some of what you'll find in
today's update.
Woodland Path: Skin Additions
Clans that enter the
Woodland Path
may return with new decorative patterns. Woodland Path foes now have a rare chance of dropping themed skins when defeated! Thanks @
Roselia
and @
Zilleniose
Gathering Additions
Dragon clans with a skill of 30 or greater in
fishing and digging
now have a chance to harvest these new items!
Aquatic Trades
Swipp and his family have been keeping an eye out for new wildlife to trade and befriend. The Swapper clan now has a chance to
now offer these new critters for trade
: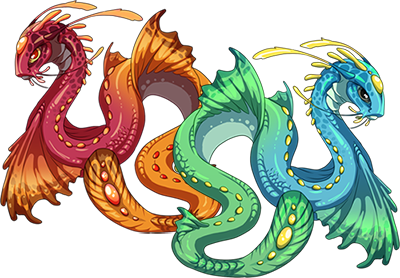 Art Updates
The following items have been given updated art. If you are not seeing the new artwork, please clear your cache.
Thundercrack Carnivale 2016 Skin & Accent Contest
A reminder that the fourth annual Thundercrack Carnivale will begin July 24, 2016. To celebrate we are running a skin and accent contest honoring the lightning flight.
Click here for more information!
Additional Updates
A bug where additional vista previews were created in the marketplace has been resolved.
Scrying Workshop, skin previews, vista previews, and apparel previews are now usable while logged out or visiting the site without an account.
We have created an Employment Opportunities page that lists all currently available Flight Rising job openings! It can be found in the website's footer.
Wing claws on Pearlcatcher M Piebald are no longer outside of the lines.
Seraph hickory and cyan have been updated with corrected colors.