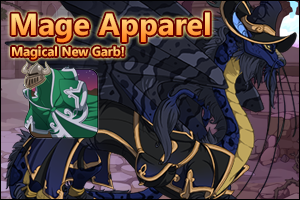 Sturdy linen apparel for the magically inclined has begun trickling into Sornieth's markets.
Click here to read more about today's update
Earlier this morning we ran a live update. The update is now complete. Enjoy the new items!
Magical Apparel
Gilded apparel with compartments galore is just the thing for an aspiring caster! New apparel is now stocking in the
treasure marketplace.



Gem Marketplace Skins
The following
gem marketplace skins
have been retired.
Greenskeeper Gathering 2016 Skin & Accent Contest
A reminder that the third annual Greenskeeper Gathering will begin May 22, 2016. To celebrate we are running a skin and accent contest honoring the nature flight.
Click here for more information!

Additional Updates
The Tawny Antlers trade has been removed from Swipp's Swapp Stand. This item can still be obtained from randomized chests and the marketplace.
All variations of the Mushroom Colony apparel have had an art error corrected for Pearlcatcher Females.
Flight Rising Developer
Project Management
|
Engineering Team Cheerleader
|
UI Designer