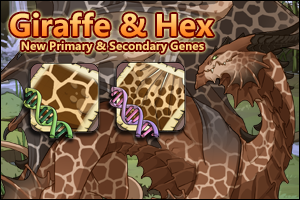 Dragons continue to display even more variety in pattern with the arrival of the giraffe and hex genes.
Click here to read more about today's update
Giraffe & Hex: New primary and secondary genes!
These new genes will apply a mesmerizing geometric pattern across a dragon's body and wings (repsectively.) These genes are now stocking in the
treasure marketplace
!
Mistral Jamboree 2016 Skin & Accent Contest
The third annual Mistral Jamboree will begin March 27, 2016. To celebrate we are running a skin and accent contest honoring the wind flight.
Click here for more information!