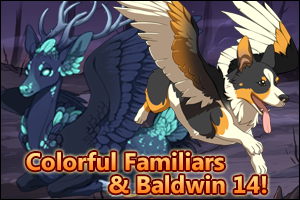 The results of the familiar coloring contest are in, and a familiar onslaught has begun!
You can click here to read more about this update.
This morning we ran a live update where items were added to the update as they were implemented into the game. This update is now complete and is no longer live, but we enjoyed chatting with everyone as we added things to the game in real time. Thank you for a fun time!
Familiar Coloring Contest
At the end of 2015 we held a familiar coloring contest to close out the year. The results are now in, and the colorful array of familiars we have added today are thanks to the hard work and beautiful colors of our participants. Thanks to our winners: @
Akitaxzero
@
AlpineHell
@
arctictis
@
Asmo
@
autumnalis
@
Craven
@
Cynderbark
@
DirkJake
@
Hallea
@
LadyKianna
@
NeroGravity
@
Nochnyr
@
Prawnlegs
@
QueenParda
@
Roro
@
Sableye
@
Sandwich
@
Solarstar
@
Ursus
@
Virgo
@
vulpines
@
weyrbound
@
Xemni
and @
Zangoose
! Those who won this contest or our 2014 contest will boast this new vista on our forums:
New Treasure Chest and Marketplace Familiars
The following familiars have a chance to stock in the
treasure marketplace
and to be collected from randomized chests.
New Swaps!
Swipp and his family have been keeping an eye out for new wildlife to trade and befriend. The Swapper clan is
now offering these new critters for trade
:
Baldwins Brew Level 14
The dragons of Sornieth have been advancing through the available levels of Baldwin's Bubbling Brew at a swift pace! With over 3600 clans capped at level 13 alchemy, it is time to allow even greater advancement! Dragon Clans may now progress to level 14!
New Level 5 Recipes:
New Level 13 Recipes:
Gathering Additions
Dragon clans with a skill of 28 or greater in
insect catching and scavenging
now have a chance to harvest these new items!
Trickmurk Circus 2016 Skin & Accent Contest
A reminder that the third annual Trickmurk Circus will begin February 21, 2016. To celebrate we are running a skin and accent contest honoring the shadow flight.
Click here for more information!

Scorched Forest Skins
Clans that battle in the
Scorched Forest
may emerge with new decorative patterns. Additional Scorched Forest foes now have a rare chance of dropping themed skins when defeated! Thanks to @
Calavera
@
Firefish
@
Kahvinporo
@
Malis
@
RandomDraggon
@
SquidMage
@
urmille
and @
xarazura
!
Flight Rising Developer
Project Management
|
Engineering Team Cheerleader
|
UI Designer