Welcome to the 10th edition of
Words on the Wind!
We have announcements, recaps, and a call for community submissions for you this month. Let's get started!
Table of Contents:



Registration Window:
Community Update:
Question/Concerns Sticky Recap
Community Call
Community Spotlight

Clan Listings
Rockbreaker's Recipe Contest
Dragon Share Spotlights
---
Registration Window: Monday, December 15th
We are happy to announce that
Flight Rising
will be open for a registration window on Monday, December 15th.
Registration will be available at 05:30 Server Time on Monday December 15, and close at 05:30 Server Time on Tuesday, December 16.
We are very excited to open the gates once more and welcome new clans to the world of Flight Rising. Be sure to tell all of your friends! Accounts that you refer award you with
free gems
when your friend purchases them.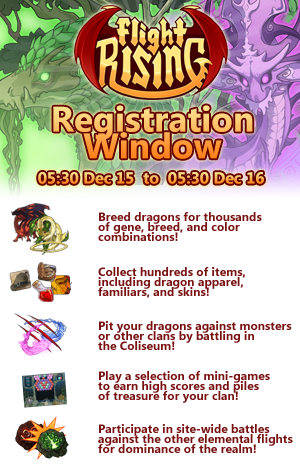 (NOTE: Please remember that Flight Rising's Terms of Use and Multiple Account Policy prohibit registering more than one account per person.)
---
Community Update: New Moderators
Please extend a warm welcome to our two newest additions to the
Flight Rising
volunteer moderator team: @
Barbie
and @
Nerd
! We are excited to have them join the mod squad!

---
Questions/Concerns Sticky Recap:
Mechanics



Secure Item Trading:
This is one of our current top priorities. We don't have a timeline for you but know we are working to push this out the door as fast as we safely can.


Hiding Exalted Offspring List:
We had hoped we could give you a quick solution. Unfortunately, we cannot. We enabled the feature to test it and discovered that in the live environment there are compatibility and back-end issues. We know this is important to you, we want to get this out to you as soon as we can, but we also want to do it right and give you a solid feature that doesn't negatively impact site performance.


Earth Flight and the October registration window:
After the October registration window there were so many Element-less Clans that it was harming the Dominance results. As the inactive, Flight-less accounts were causing problems with Dominance and its rewards, we had to move swiftly to ensure no further interruptions to the Dominance mechanic or the standings of the winning Flights. These accounts were assigned the first element, Earth. We know Earth is concerned about what this means for them, all of these inactive accounts - Dominance does not factor inactive accounts when tallying the results. Starting with the November window, we will be sure to spread Element-less Clans across all 11 Flights.





Policy



Skins and Spines:
Skins/accents must use the templates provided as they are to be used on any dragon, regardless of what genes they may or may not have.


Mini-modding:
Our stance on mini-modding is nothing new. We've mentioned it in previous Words on the Wind editions: we don't allow it. What is new is the formal addition to the Site Rules & Guidelines as we've seen an uptick in player behavior where players feel it is acceptable to privately message our moderators telling them what thread to move and where, how to moderate, or publicly pushing back when our volunteer moderators do as they are asked by the Admin. We value and appreciate our moderators, the time and effort they generously donate to the Flight Rising community, and because of that, we will support them and protect them from that kind of targeted harassment.

If you disagree with or have concerns over moderation, please send the staff and Admin of Flight Rising a message through Contact Us.

We've seen several questions inquiring about specific instances, wanting exacts on very specific situations. The Rules & Guidelines are a guide and borderline issues/actions will be taken on a case by case basis. Regarding role-play threads, setting the content and type of your role-play story is fine - actioning or outright moderating players, however, is in the realm of Flight Rising's moderators. Our existing rules and guidelines protect your threads from trolls and harassment and any moderator action would be on that basis, not the player decided rules. In general it is not realistic and as we grow, it's just not logistically possible to manage and enforce the personal rules of each individual poster. This can and will lead eventually to blacklisting, harassment, etc which are other behaviors we do not want or permit within our community.

If you post a thread on our site, it is a public thread, not a private forum, and it is held to the Terms of Use and Rules & Guidelines.





Lore

Where does the Trading Post exist?:
The Trading Post lies somewhere uninhabited by Lairs, somewhere between the Light and Lightning territories, far enough away from both to avoid interference from the @Lightweaver or @Stormcatcher.


How do Water Flight dragons survive underwater?:
Water dragons are able to use their control over the Element to navigate and survive, even thrive underwater. They also have the ability to share this boon with non-Water dragons. For dragons of a different Element found or brought into a Water Clan, they have to rely on and trust their Clanmates (Water or Wind if one is present).

---
Community Call!
Do you have a fansite for Flight Rising? Is it a wiki? Guides? Color charts? For fan art? If you'd like to see your fansite featured in a future
Words on the Wind
edition, here is how to submit:
Using your registered email, submit it through Contact Us with the title "WotW Community Call"
Site must be actively updated
Tell us a little bit about your fansite - this will be included in the feature
The cut-off date for this round of submissions is 12/22/2014 at 00:00 server time.
Submissions with inappropriate content will not be considered.
---
Community Spotlight
Cynictis' Clan Directory!:
Are you interested in showing off your chosen Clan name with other like minded players? If so, Cynictis' Clan Directory may be for you! Here you can show where your Clan is located on an
interactive map
made by @
Mary
and @
Patch
set up
a thread for you to make allies with other Clans!
(note: the interactive map is currently unavailable but will return at a later date)
SullenEarth's Rockerbreaker's Recipe Contest! (now closed)
Who doesn't love food? The recipe contest was filled with delicious recipes and some very exciting prizes! Grand prize was an Akiribeak! Be very careful while browsing the thread - don't do it while hungry (just like with grocery shopping!)
Personal favorites:
Be sure to stop by
Forum Games
from time to time, there's always something interesting going on!
---
Dragon Share Theme Spotlights:
Clans:
@
Bloodcrest
's Tantaros!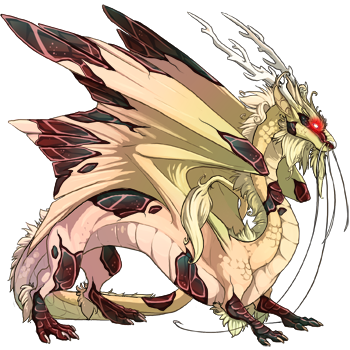 Rockbreaker's Ceremony:
@
Vanshira
's Reeves!